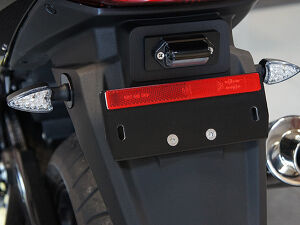 The Holeshot Bandit 650/1250/FA LED Mini Blinker Kits really help clean up the looks of the bike. Dale's black anodized CNC machined aluminum backing plates fit in the fairing hole and rear fender area perfectly, giving the blinker a base to mount to. Another slightly larger backing plate is also supplied to support the back per blinker. Our version 2 clear Lens LED blinkers have a powder coated black metal housing, are super bright, and have orange tinted bulbs for great visibility. They blink only slightly faster than stock, so we don't bother with the expense or hassle of a resistor kit. Kits fit all water cooled Bandit 650/1250/FA and 2006 Bandit 1200.
Dale recommends splicing, soldering and shrink tubing all connections.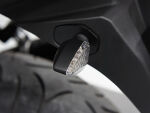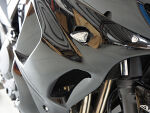 Holeshot LED Mini Blinker Kit for Suzuki Bandit 650/1250/FA & Bandit 1200 (2006)
| | | |
| --- | --- | --- |
| Description | Part # | Price |
| LED Mini Blinker Kit (Front) | B56-LED-BKF | $73.95 / each |
| LED Mini Blinker Kit (Rear) | B56-LED-BKR | $73.95 / each |
All orders plus shipping - Prices subject to change without notice
These are a non-returnable item!