IMPORTANT: THIS IS LEGAL FOR OFF-ROAD CLOSE COURSE USE ONLY!
NOTE: These numbered photos are to be used as a guide in conjunction with the written instruction sheet supplied with the kit. Be sure to review all photos before you start the installation, feel free to call Dale if you have any questions.
775-463-5394
1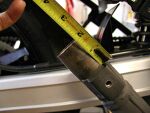 Using a reciprocating cutting saw with good blade, cut header tube just in front of weld bead as shown. Stainless steel is tough so have 3 or 4 blades handy for this step.