IMPORTANT: THIS IS LEGAL FOR OFF-ROAD CLOSE COURSE USE ONLY!
NOTE: These numbered photos are to be used as a guide in conjunction with the written instruction sheet supplied with the kit. Be sure to review all photos before you start the installation, feel free to call Dale if you have any questions.
775-463-5394
1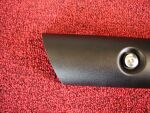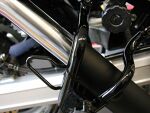 This step is now completed, for the rest of the exhaust installation refer to the 4-1 slip-on install sheet that came with the kit.