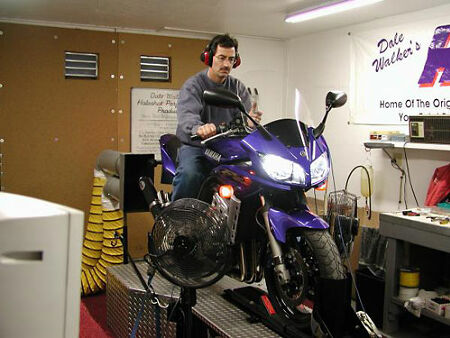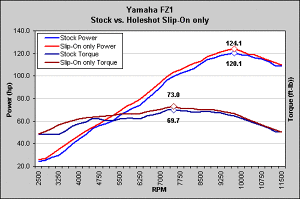 Stock vs Slip-On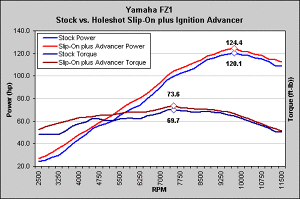 Stock vs Slip-On w/ Advancer
Stock vs Slip-On, Advancer & Stage 1 Modified Jet
Kit
Stock
Slip-On Only
Slip-On w/ Advancer
Slip-On, Advancer & Jet Kit
RPM
Power
Torque
Power
Torque
Power
Torque
Power
Torque
2,500
24.2
47.9
26.0
48.6
27.1
52.4
26.9
55.3
2,750
25.2
48.1
26.7
51.0
28.9
55.2
30.5
58.2
3,000
27.7
48.4
30.5
53.4
32.4
56.7
34.0
59.6
3,250
29.8
48.2
35.1
56.7
36.0
58.2
37.7
60.9
3,500
34.2
51.3
39.1
58.7
39.7
59.6
41.8
62.7
3,750
39.6
55.5
43.1
60.4
44.0
61.6
45.9
64.2
4,000
43.8
57.5
47.3
62.1
47.9
62.9
49.8
65.3
4,250
48.0
59.3
51.1
63.1
51.4
63.6
53.7
66.4
4,500
53.5
62.4
54.7
63.8
55.1
64.3
57.5
67.1
4,750
55.9
61.8
57.9
64.1
58.8
65.0
61.9
68.5
5,000
57.5
60.4
61.3
64.4
62.1
65.3
65.8
69.1
5,250
60.5
60.5
65.0
65.0
65.8
65.8
69.4
69.4
5,500
64.9
61.9
69.1
66.0
70.1
66.9
74.2
71.0
5,750
68.3
62.4
72.9
66.5
74.2
67.8
78.2
71.4
6,000
71.5
62.6
75.6
66.2
77.6
67.9
81.1
71.4
6,250
74.1
62.2
79.4
66.8
80.4
67.6
84.2
71.5
6,500
79.7
64.4
84.3
68.1
84.3
68.1
89.6
72.4
6,750
84.5
65.8
88.9
69.2
89.0
69.2
94.4
73.5
7,000
90.0
67.5
94.1
70.6
94.6
71.0
99.2
74.5
7,250
96.2
69.7
99.8
72.3
100.3
72.7
104.7
75.8
7,500
99.5
69.7
103.2
73.0
104.5
73.6
108.8
76.5
7,750
102.1
69.2
105.6
71.6
106.4
72.1
110.8
75.1
8,000
104.6
68.7
108.5
71.2
109.2
71.7
114.8
74.9
8,250
106.6
67.9
111.4
70.9
111.9
71.2
117.1
74.5
8,500
110.6
68.4
112.9
69.8
114.2
70.6
120.3
74.3
8,750
114.6
68.8
117.1
70.3
117.5
70.5
123.5
74.1
9,000
116.1
67.7
119.5
69.7
119.5
69.8
125.7
73.3
9,250
118.0
67.0
121.5
69.0
121.7
69.1
126.2
71.6
9,500
119.1
65.9
122.8
67.9
123.7
68.4
129.1
71.4
9,750
120.1
64.7
124.1
66.6
124.4
66.8
131.2
69.7
10,000
118.8
62.4
122.0
64.1
122.1
64.1
129.8
68.2
10,250
118.2
60.6
119.5
61.2
121.6
62.3
128.5
65.6
10,500
116.2
58.1
118.7
59.4
119.4
59.7
127.9
64.3
10,750
114.8
56.1
116.1
56.7
118.4
57.9
126.7
61.9
11,000
112.9
53.9
114.0
54.4
114.9
54.9
124.5
59.4
11,250
109.0
50.9
112.1
52.3
114.7
53.6
123.8
57.8
11,500
108.8
50.2
109.8
50.1
112.3
51.3
120.8
55.2
Dale also tested slightly larger #42 pilot jets as well as many other settings. We were able to squeeze out about 2-3 HP more from the ZZR with the larger pilot jets installed and made the best pull off 143.9 HP. But Dale's road testing showed a drop in fuel mileage, about 37-38 MPG on the freeway at steady cruise. Also the idle is smoother with the stock pilot jets as well. For only 2 HP or so Dale decided to only recommend shimming the needles and re-adjusting the fuel screws. The ZZR runs butter smooth with this simple adjustment and is plenty fast, but if you don't mind the above and you're a power junky you may want to try the #42 pilots jets also.
NOTE: These are true numbers off of Dale's in-house dyno. The Holeshot compound is about 200 feet above sea level and the dyno room stays a constant temperature between 70-80° F. The above results were also achieved with Dale's tuning, which is a bonus!

Be aware that dynos, dyno operators, conditions and bikes can vary 3-8 HP, so these numbers should only be used as a reference.

These are true numbers measured on Dale's Dynojet 250 I dyno with WinPEP 7 Dyno Run Viewer, STD Mode, Smoothing 5.