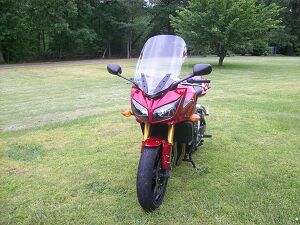 The Rifle 24" touring screen system was designs from a clean sheet. This is not just a bolt on replacement screen. It includes a new air balance mounting base that allows us to get the ideal curve, shape, and angle windshield to fit the Gen 2 Yamaha FZ1. The air balance base has a molded in vent, that lets a larger, controlled amount of air behind the shield to eliminate back pressure and reduce buffeting. Rifle has over 30 years of wind screen technology behind them and this one really shows in the performance.
The Rifle Touring screen for the 2006-08 FZ1 is about 8" wider and 10" taller than the original factory screen, and is made of D.O.T. approved clear Lucite L for better optics, scratch resistance and stiffness.
NOTE: Light gray tint is available upon special order!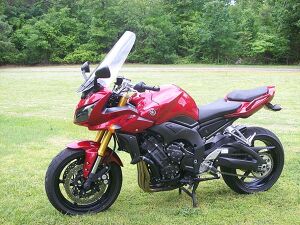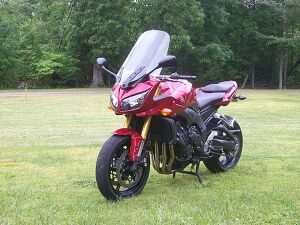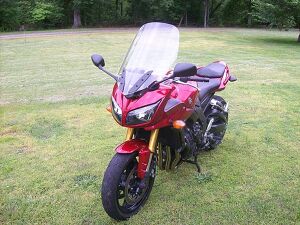 Rifle Wind Screen System for Yamaha FZ1 (2006+)
| | | |
| --- | --- | --- |
| Description | Part # | Price |
| Clear Wind Screen | 0.413.0101 | $199.00 / each |
| Light Gray Tinted Wind Screen | 0.413.0101LG | $219.00 / each |
All orders plus shipping - Prices subject to change without notice
These are a non-returnable item!
Original Bike Spirit Spray Cleaner & Polish

Dale loves this product and often uses it around the shop here at Holeshot . It very well may be the best quick cleaner and polish on the planet. The Original Bike Spirits Spay Cleaner and Polish comes in a aerosol 14 oz. can. This product was formerly branded by Honda and other OEMs, but now is available right from the source. OBS works fantastic on Paint, windscreens, face shields, bare aluminum, chrome , even plastic, vinyl & leather. On leather riding gear it cleans off dirt and bugs without harming the pigment.

| | | |
| --- | --- | --- |
| Description | Part # | Price |
| Spray Cleaner & Polish (14oz Can) | OBS-14 | $9.99 / each |

All orders plus shipping - Prices subject to change without notice