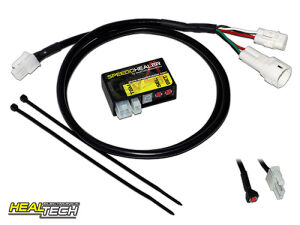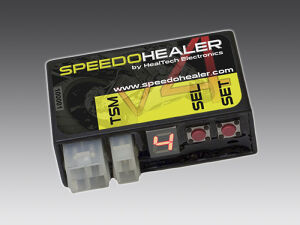 On most modern motorcycles, with factory speedometer error being as high as 10%, even a modest sprocket gearing change can have the speedometer off by 15%. The sprocket change will also cause higher odometer reading, creating a negative resale factor for no valid reason. The SpeedoHealer is an inexpensive, convenient and very simple way to fix your speedo and odo. Compatible with all motorcycles with non cable driven speedometer.
The kit listed on this page fits these Suzuki models:
All B-1250, GSX-650F, 2000+ B-600 / 650, 2001+ B-1200, All DL-650/1000, SV-650/1000
Specifications
Programmable Calibrator

Calibrate your vehicle's factory speedo and odometer to get 100% accurate readings
Make sprocket conversions road legal by speedo re-calibration

Converter

Convert miles to kilometers and vice versa on import vehicles
Set your speedo reading according to the local standard during your trip abroad (e.g. to/from the UK)

Advanced Top Speed Memory

Recall your true top speed to your factory speedometer by press of a button
Plug-n-Go kits available for ALL Honda, Kawasaki, Suzuki and Yamaha motorcycles!
Typical Uses
Eliminating "factory inaccuracy", which may be as much as 10%
Account for changes in tire size/profiles
Make gear ratio changes, such as sprocket conversions on motorcycles
Get an accurate speedo/odo even on bike engine powered cars, Quads, Snowmobiles
By-pass the built-in factory speed limiter on bikes such as the ZX-12R, ZX-14, ZZR1400 (refer to FAQ #22)
Mile or kilometer conversion on import vehicles
Adjust for new speedo face-plate with different scale
Interfacing an aftermarket speedometer
Requirement to characterize the display unit of the vehicle (stability, error % and linearity)
What do you gain with SpeedoHealer?
Accurate speedometer and/or odometer no matter what you change on your vehicle
Your odometer won't show more miles/kms than you ride (RESALE VALUE!)
Top Speed Memory (Ever wondered HOW FAST you were going?)
Safety: your speedometer will always clearly indicate your actual speed, without lag
Your top speed won't be restricted by the factory speed limiter (ZX-12R, ZX-14, ZZR1400)
Product highlights in comparison to other calibrators
Widest calibration range (-99.9% to +99.9%) along with the finest increments (0.1%)
The best accuracy
Has the most features
Plug-n-Go Kits are available for Japanese bikes
Quick and easy setup through the on-line calculator
100% weather proof design, it is built to last
The lightest unit with the most compact dimensions
Each unit is extensively tested prior to shipping. Guaranteed to work
New updated version 4 features
New User Interface: Easier to program, review and update the stored parameters
Extended Calibration Range: Works even for special applications, like with different engine/gauge combinations, bike engines powering cars, etc.
Detachable Remote Button: Top speed recall now comes with detachable TSM button standard on all units
Smaller & Lighter: 30% smaller and lighter. By far the smallest calibrator on the market
Improved Layout: Redesigned harness fits into smaller spaces
Dual Stored Data: Allows storing of two independent calibration values, and switching among them by the press of a button. Has clear visual confirmation of the value in use. Useful for road/track use when changing gearing. Also, easy to bypass speed limiter when on the track.
Km/h to MPH Conversion: Allows you to review and enable/disable conversion at the press of a button.
Lower Power Draw: Reduced power consumption with auto-standby. Works from as low as 3v supply. Easier installation for Yamaha Bikes
You won't find any better NOR a lower cost alternative on the market!
No matter how you define it, the Speedo Healer is the "best re-calibrator" available.

Cycle News - USA (August 3, 2005)

...The SpeedoHealer took me about half an hour to install and calibrate, both of which are straightforward processes...

...After installing the SpeedoHealer [on a brand new 2005 GSX-R1000] and calibrating to negative 6 percent, we went back out and did a series of radar runs and determined that we had corrected our GSX-R's speedometer completely. Now when I'm speeding, at least I know by exactly how much.



Blake Conner
Speedo Healer Version 4
| | | |
| --- | --- | --- |
| Description | Part # | Price |
| Speedo Healer v4 | SH-V4-S01 | $116.99/each |
All orders plus shipping - Prices subject to change without notice