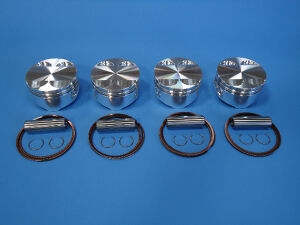 Dale designed his high compression piston kit to drop right into the original 79mm bore cylinder, and JE is known for making some of the highest quality pistons on the planet today. All that is needed is a light flex type hone to freshen up the cross hatch and back together you go.
This kit will make your B-12 a real screamer
Dale's Gen 1 project Bandit made over 148 horsepower and 90+ ft-lbs of torque with his Standard bore piston kit, Holeshot headwork, GSX-R intake cam, Stage 2 jet kit, Advancer and Stepped Holeshot 4-1 Header.
Dale ran impressive 9.80 ETs with this combo on his project bike a few years ago.
NOTE: Please allow a two week lead time when ordering the kit!
Kit Features & Includes:
Standard 79mm bore at 11:1 compression
Rings, pins and clips
J & E lightweight super strong forged castings
No boring required, just hone cylinder and install
Utilizes stock headgasket
Runs on pump gas
Holeshot Exclusive High Compression JE Piston Kit for Suzuki Bandit 1200 (1996-2006)
| | | |
| --- | --- | --- |
| Description | Part # | Price |
| Piston Kit | Part No. B12-PK | $709.00 / each |
All orders plus shipping - Prices subject to change without notice