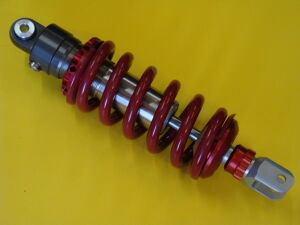 Dale has teamed up with Cogent Dynamics to produce this super high quality Holeshot Performance Exclusive Bandit 1250 & Gen 2 1200 rear shock. The high performance piston and compression valving design was developed through hours of testing, on Cogent's in house shock dyno. Dale has done extensive road testing and adjustment settings allowing Cogent to make the proper changes to complete the finished package. The end result is a great performing, very high quality long life shock that sucks up the bumps, and keeps the back end nice and planted. We offer two spring rates to cover the average rider or the real big heavy guy with a loaded up bike. The Holehsot / Cogent Dynamics Bandit 1250 & Gen 2 1200 shock is also fully re-buildable. This shock comes with a lifetime warranty to the original owner, as long as it is serviced by Cogent every 15,000 miles or 2 years, which ever comes first.Dale will also work closely with you to set up the sag and fine tune the shock. This is where "Hands on real world testing" comes in handy and makes it much easier for you the customer.
No other shock comes close to this build quality for the money spent
Features Include:
Wide range of rebound with 25 click adjustment settings, and speed sensitive compression damping
Near infinite spring pre-load range
Fully made in the USA from billet materials, on high accuracy CNC machining equipment
Anodized components
Precision ground and hard chrome piston shaft for very low internal friction
Quad ring type seal head with DU bushing
Hard coated long life body design
hardened spanner tool to adjust the spring pre-load.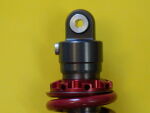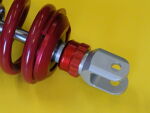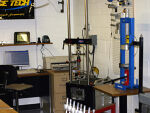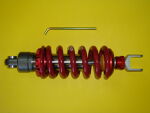 Each shock built at Cogent Dynamics is performance tested on their state of the diagnostic equipment. This extra step is only part of what we do to provide our customers with high quality and reliability.
NOTE: Riders up to 225 lbs should order the shock with the standard spring rate & Riders over 225 lbs should go with the heavy spring rate.
Holeshot / Cogent Dynamics Rear Shock for Suzuki Bandit 1250
| | | |
| --- | --- | --- |
| Description | Part # | Price |
| 1250 Rear Shock w/ Standard Spring | B1250-CSS | $759.00 / each |
| 1250 Rear Shock w/ Heavy Spring | B1250-CSH | $759.00 / each |
All orders plus shipping - Prices subject to change without notice
Holeshot / Cogent Dynamics Rear Shock for Suzuki Bandit 1200 (Gen 2)
| | | |
| --- | --- | --- |
| Description | Part # | Price |
| 1200 (Gen 2) Rear Shock w/ Standard Spring | B1201-CSS | $759.00 / each |
| 1200 (Gen 2) Rear Shock w/ Heavy Spring | B1201-CSH | $759.00 / each |
All orders plus shipping - Prices subject to change without notice