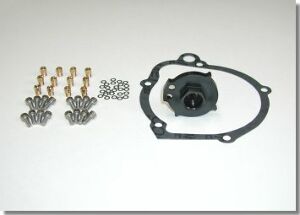 After two months of Dyno and road testing Dale's new Stage 1 Mod kit is now ready for the late model B-12s. This economical and simple to tune jet kit is designed for modifying the air box per Dale's instructions to increased air flow. The end results are butter smooth power delivery, unreal throttle response and better fuel mileage. You can expect a 10 to 13 HP gain and up to 80 ft-lbs of arm stretching torque when run in conjunction with the Holeshot Slip-on and even more with the Holeshot stepped header.
The Stage 1 Mod kit includes 3 sets of original Mikuni main jets, pilot jets, mill spec stainless needle shims, stainless allen bolts for the float bowls and Dales timing advancer with gasket for the engine cover.
Its a proven fact the advancer adds throttle response and increases fuel economy on any B-12. You can also still run 87 or 89 octane fuel without a problem.
Dale's step by step instructions make it very easy for the home tuner to install and fine tune the kit and as always, Dale is just a phone call away.
Note: We do not recommend any aftermarket air filter element with this jet kit. Extensive testing has found that the original Suzuki filter outperforms other high flow units in the new style air box.
Click Here for Dyno charts.
Holeshot Stage 1 Modified Jet Kit for Suzuki Bandit 1200 (2001+)
| | | |
| --- | --- | --- |
| Description | Part # | Price |
| Modified Jet Kit | B1201-JK1-M | $135.00 / each |
All orders plus shipping - Prices subject to change without notice
These are a non-returnable item!