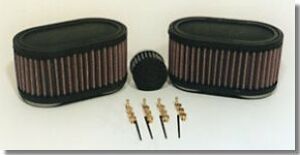 As you may know the 1200 Bandit comes from the factory jetted way too lean. This causes it to be very cold blooded, have flat spots, and run poorly in low and midrange rpms. Dale designed this Holeshot Stage 2 Jet Kit for maximum performance and smoother running throughout the entire RPM range.
5 to 7 additional horsepower can be expected.
If you've heard of tuning headaches with other kits when you remove the airbox don't be alarmed. You will be pleasantly surprised when you install Dale's kit.
Compliments our Holeshot slip-ons as well as others
Our Exclusive Stage 2 Kit Includes:
Dual K&N oval air filter
K&N crank case vent filter
3 sets of original Mikuni main jets
1 set of original Mikuni pilot jets
Holeshot® aluminum hard anodized adjustable needles
Stainless allen bolts to replace the float bowl screws
Complete installation and tuning tip instructions
Why should YOU get a Holeshot Stage 2 kit?
More horsepoer and torque!
Much smoother running
Improved looks
Easy access to carburators
Makes your Bandit a heavy breather!
Holeshot Comp 1 Slip-On and Stage 2 Air Box
Jetting Kit with Timing Advancer
Holeshot Stage 2 Jet Kit for Suzuki Bandit 1200 (1196-2000)
| | | |
| --- | --- | --- |
| Description | Part # | Price |
| Jet Kit w/ Filters | B12-JK2 | $288.00 / each |
| Jet Kit w/o Filters | B12-JK2-NF | $156.00 / each |
All orders plus shipping - Prices subject to change without notice
These are a non-returnable item!
NOTE: We do not sell our needles separately!