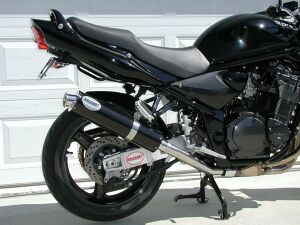 Dale designed the 1200 Bandit Holeshot Slip-on to be a true complete slip-on system by eliminating the heavy and restrictive elbow pipe and stock muffler. Just installing the Holeshot without jetting will produce a mind blowing 11 to 13 horsepower gain and up to 9 ft-lbs of arm stretching grunt on the early model 1200s. The late model 1200s pick up about 5 to 6 HP over the stock muffler with our slip-on. Installing one of Dale's jet kits will add another 5 to 7 HP and really make your B-12 run smooth with great power delivery.
Dale's design is 7lbs. lighter than stock and is hand crafted in house from 6061-T6 aluminum and 304 stainless steel and are available in two lengths 14" and 17" canisters with a 4" outside diameter. We also offer our comp 1, comp 2 or street core as an option as well as our 17" touring muffler with a slightly longer mounting clamp for added soft or hard saddle bag clearance. Our mufflers are available in fully polished or powder satin black outer shells with polished stainless end caps.
The Holeshot slip-on high flow elbow pipe is made from high grade 304 stainless steel then polished for a beautiful appearance and will not rust, but does need to be maintained and polished now and then. The elbow pipe is very light weight and removes the pre muffler to get those added ponies Holeshot is known for.
Our Slip-on also mates up to our Holeshot stepped header so you can up-grade at any time making it into a full system. Our Headers are ceramic coated inside and out with a slightly different look so we also offer a elbow pipe coating service so the parts will match perfectly at that time if desired.
The 600 Bandit Holeshot Slip-on offers the same quality and workmanship, light weight and pure performance you'd expect from a Holeshot exhaust. Up to a 8 Horsepower gain can be expected with more mid range when run with one of Dales stage one or stage two jet kits.
If you want a bad ass exhaust note and a real shorty muffler look, then go for our new 10" bad boy Comp 2 option. Available in satin black only, and please dont blame Dale if get to much attention with this one installed on your Bandit.
Click Here for Dyno charts.
NOTE: The Stage 2 Kit is only available for pre 2000 model 600s!

Bandit Holeshot Muffler Options
Our standard 17" comp 1 & 2 mufflers for the B-12 make the most horsepower and torque and offer a healthy, but still not race sound level.
The comp 2 mufflers will generate about the same power output as the comp 1 when used with the stock header.
The 17" street core is just a bit more subtle on the sound level while producing about 1-2 hp less than the comp 1.
The 14" comp 1 offers a very unique, shorter look and a slightly louder exhaust note than the 17" comp 1 with the same power output.
The new Touring Muffler clamp is also available separately and will fit all Holeshot Bandit standard mount slip-ons. This allows more clearance for soft or hard bags if desired by lowering the canister about 1". New insulated tape, button head allen and flange nut are included.
Our standard 1.75" core 17"comp 1 for the B-12 is good choice fort our slip-on if you intent to keep the original stock header system.It will make great overall power and torque, as well as a healthy but still not race sound level.
The 2.0" core comp 2 muffler should seriously be considered if you are intending to add the Holeshot stepped header at a later date. This muffler combined with the comp 2 header really makes the big power and torque all the way up. The sound level is a little deeper than the comp 1 with about the same volume at wide open revs.
The 14" comp is available in the comp 1 or comp 2 core styles also. It offers a very unique look and a slightly louder exhaust note than the 17" mufflers while make the same power out put.
The Holeshot slip-ons are available in fully polished or a powder satin black canister with polished stainless end caps.
The 10" comp 2 Bad Boy is just that, "Bad Ass" available in powder satin black only.
NOTE: All 600's come standard with the street core unless requested otherwise when placing your order. There is no power loss with the street core on the Bandit 600!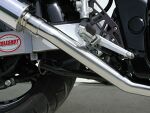 All Holeshot Slip-Ons now
come with a polished
stainless elbow pipe w/o
a center stand stop tube
attached for a cleaner look.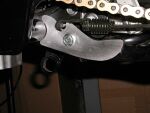 The center stand can still
be retained using our
included stainless steel
bolt-on center stand stop.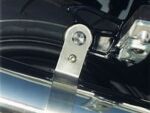 Our touring muffler clamp
(included with our Touring
Slip-Ons, and available
separately as an upgrade
for all Holeshot Slip-Ons.)
17" Street Slip-On w/ our
1" lower touring clamp
for added bag clearance.
Photo courtesy of
Kevin Myers.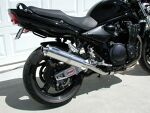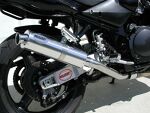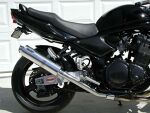 14" Polished Slip-On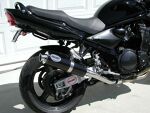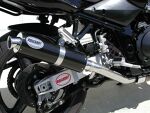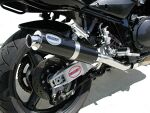 14" Black Slip-On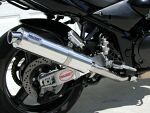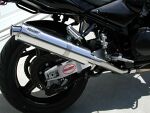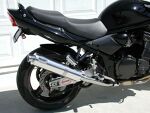 17" Polished Slip-On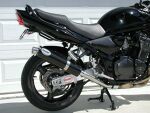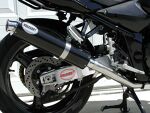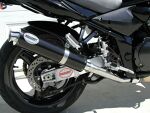 17" Black Slip-On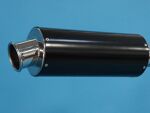 10" Comp 2 Black Bad Boy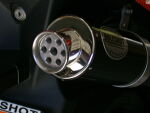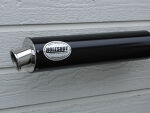 Satin Black Muffler w/
Optional Holeshot
Performance Logo Plate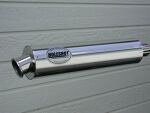 Polished Muffler w/
Optional Holeshot
Performance Logo Plate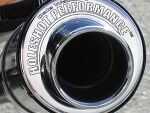 Super clean, laser-etched
Holeshot Muffler End-Cap
Now Standard!
Holeshot Slip-Ons for Suzuki Bandit 600
| | | |
| --- | --- | --- |
| Description | Part # | Price |
| 17" Street, Polished | B612-SOS | $390.00 / each |
| 17" Street, Black | B612-SOSB | $405.00 / each |
| 17" Street, Polished Touring | B612-SO-17T | $390.00 / each |
| 17" Street, Black Touring | B612-SOB-17T | $415.00 / each |
| 14" Comp 1, Polished | B612-SO-14 | $390.00 / each |
| 14" Comp 2, Polished | B612-SO-14C2 | $390.00 / each |
| 14" Comp 1, Black | B612-SOB-14 | $405.00 / each |
| 14" Comp 2, Black | B612-SOB-14C2 | $415.00 / each |
| 10" Comp 2, Black Bad Boy | B612-SOB-10C2 | $415.00 / each |
| Touring Clamp Only (Optional) | B-TCA | $32.95 / each |
| Holeshot Logo Plate (Optional) | EX-NP | $5.00 / each |
Holeshot Slip-Ons for Suzuki Bandit 1200
| | | |
| --- | --- | --- |
| Description | Part # | Price |
| 17" Comp 1, Polished | B12-SO | $390.00 / each |
| 17" Comp 2, Polished | B12-SOC2 | $390.00 / each |
| 17" Street, Polished | B612-SOS | $390.00 / each |
| 17" Comp 1, Black | B12-SOB | $405.00 / each |
| 17" Comp 2, Black | B12-SOBC2 | $415.00 / each |
| 17" Street, Black | B612-SOSB | $405.00 / each |
| 17" Street, Polished Touring | B612-SO-17T | $390.00 / each |
| 17" Street, Black Touring | B612-SOB-17T | $415.00 / each |
| 14" Comp 1, Polished | B612-SO-14 | $390.00 / each |
| 14" Comp 2, Polished | B612-SO-14C2 | $390.00 / each |
| 14" Comp 1, Black | B612-SOB-14 | $405.00 / each |
| 14" Comp 2, Black | B612-SOB-14C2 | $415.00 / each |
| 10" Comp 2, Black Bad Boy | B612-SOB-10C2 | $415.00 / each |
| Touring Clamp Only (Optional) | B-TCA | $32.95 / each |
| Holeshot Logo Plate (Optional) | EX-NP | $5.00 / each |
All orders plus shipping - Prices subject to change without notice
Valco All-In-One High-Temp Silicone

Valco All-In-One High Temp Black Silicone is ideal for exhaust system slip fits during installation. It's one of the most advanced sealers available, is resistant to extreme temperatures up to 600 degrees, and can be used in non high temp applications as well. This product is a necessity to use if you are installing our Holeshot slip-on or complete header system.

| | | |
| --- | --- | --- |
| Description | Part # | Price |
| High-Temp Silicone | V-HTS | $7.50 / each |

All orders plus shipping - Prices subject to change without notice
Magic Mix

Keep your new Holeshot exhaust looking like new!

Magic Mix is known as the lazy man's polish and for a good reason. It's absolutely the best and easiest to use metal polish we've ever tested. It will keep your new Holeshot Slip-on or complete system looking new forever.

It works fantastic on aluminum, stainless, chrome and our coated slip-ons or full header system. We use it daily in our workshop during final assembly, as well as, on all our personal vehicles. It can even be used to rub out fine scratches on painted clear coated finishes.

| | | |
| --- | --- | --- |
| Description | Part # | Price |
| Magic Mix (8oz Bottle) | MM-P | $9.95 / each |

All orders plus shipping - Prices subject to change without notice
Original Bike Spirit Spray Cleaner & Polish

Dale loves this product and often uses it around the shop here at Holeshot . It very well may be the best quick cleaner and polish on the planet. The Original Bike Spirits Spay Cleaner and Polish comes in a aerosol 14 oz. can. This product was formerly branded by Honda and other OEMs, but now is available right from the source. OBS works fantastic on Paint, windscreens, face shields, bare aluminum, chrome , even plastic, vinyl & leather. On leather riding gear it cleans off dirt and bugs without harming the pigment.

| | | |
| --- | --- | --- |
| Description | Part # | Price |
| Spray Cleaner & Polish (14oz Can) | OBS-14 | $9.99 / each |

All orders plus shipping - Prices subject to change without notice