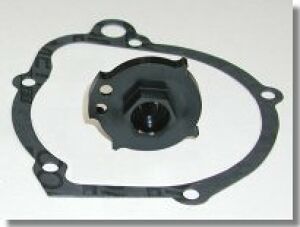 The Holeshot Timing Advancer adds +5 degrees of ignition timing. This is a very easy way to add 1 to 2 horse power throughout the entire RPM range, pick up throttle response in the usable part of the power curve, and right off the bottom. A very smooth idle can also be expected once up to normal running temperature.
In most cases slightly better fuel economy is not uncommon with a slight ignition advance added. Pinging or heat is not a problem and Dale tested 87 octane extensively and still could not make it ping or rattle in a stock motor. The advancer will not shorten engine life in any way shape or form.
Dale's kit includes the Holeshot timing advance rotor, and the engine cover gasket.
Holeshot 5° Timing Advancer for Suzuki Bandit 600/1200
| | | |
| --- | --- | --- |
| Description | Part # | Price |
| +5° Timing Advancer | B-RT | $68.00 / each |
All orders plus shipping - Prices subject to change without notice
These are a non-returnable item!