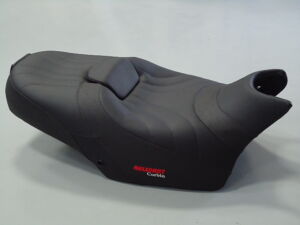 The sturdy seat base pan is hand laid from a super strong Corbin Fibertech material. This may be a little heavier than stock, but will never fail, and needed over the long haul for the best Comfort Cell foam and optional back rest support. You can expect a firmer but much more comfortable ride over the original OEM seat. The V-Max Holeshot/Corbin saddle will also need a break in period of about 1500 miles to conform to your own back side.
The gas cap now has very easy access, by the clean removable center pod.
Dale's exclusive V-Max Holeshot/Corbin seat is covered in a Carbon-Fiber style premium marine grade vinyl that breathes with your body. The Asphalt vinyl side panels blend in very nice with the lines of the bike, offering a very clean look Dale is known for with his products. The Holeshot/Corbin logo is embroidered on the right side for a finishing touch.
NOTE: Please note that the logo placement can vary slightly!
The optional Holeshot/ Corbin back rest has the same carbon vinyl cover, with the carbon look back ring.
NOTE: The seat base must relieved a little on the sides to clear our Holeshot Frame Braces. This involves pulling the cover back in that area, drum sanding a radius for clearance then re-attaching the cover!
PLEASE NOTE: Corbin products are designed to fit very close to your bike for a clean look. Due to this, other accessories or options can inhibit proper fit. As an example: Tank Consoles (dashes), ignition modules, exhaust systems, sissy bars, etc. If you have accessories installed on your bike, please let Dale know so he can verify the fit for you.
SADDLE WARRANTY: Basepan, foam and hardware of the Corbin saddle is warranted to the original owner for life. Cover materials and workmanship are warranted for one year. Product will only be authorized to be shipped back, freight pre-paid, for refining of shape or to replace/rectify defective parts. In cases where the rework requires a new cover, a recover charge will be applied. Cash or credit refunds are not available. All goods being handled for customer service consideration must be accompanied by a Corbin / Holeshot Performance receipt and a Return Material Authorization Number (RMA). Due to shipping costs, Corbin seats and backrests sold and shipped out of the USA have no warranty.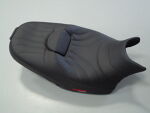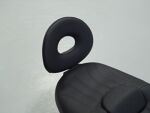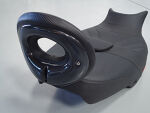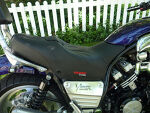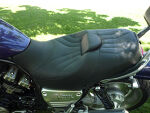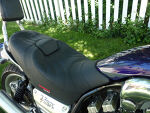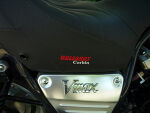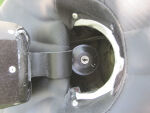 Holeshot/ Corbin Seat & Back Rest for Yamaha V-Max (1985-2007)
| | | |
| --- | --- | --- |
| Description | Part # | Price |
| Holeshot / Corbin Seat | VMAX-GL-DW | 618.00 / each |
| Holeshot / Corbin Back Rest | 02-SB-DW | 328.00 / each |
All orders plus shipping - Prices subject to change without notice
These are a non-returnable item!
Corbin Care Saddle Cream for Leather & Vinyl

To assure many years (and untold miles) of faithful service, be sure to care for your leather or vinyl Holeshot Corbin with our quality conditioner Saddle Cream. This will help your seat to remain weather resistant and supple. Be sure to avoid cleaners or conditioners that contain petroleum products or kerosene!

In fact, Saddle Cream is probably a good idea for all your other leather & vinyl products like boots, jackets, furniture...well, you get the idea.

| | | |
| --- | --- | --- |
| Description | Part # | Price |
| Saddle Cream | C-SC | $13.99 / each |

All orders plus shipping - Prices subject to change without notice