IMPORTANT: THIS IS LEGAL FOR OFF-ROAD CLOSE COURSE USE ONLY!
NOTE: These numbered photos are to be used as a guide in conjunction with the written instruction sheet supplied with the kit. Be sure to review all photos before you start the installation, feel free to call Dale if you have any questions.
775-463-5394
1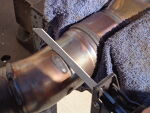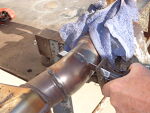 Using a reciprocating cutting saw with good blade, cut header tube just in front of weld bead as shown. Stainless steel is tough so have 3 or 4 blades handy for this step.
2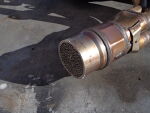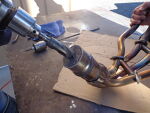 With the cut made use a 3/4" to 1" drill bit to drill a center hole in remaining cat. Be sure to stop when you feel it touch the divider plate in the collector, or drill a little at a time and keep an eye on it.
3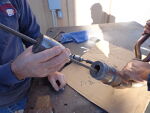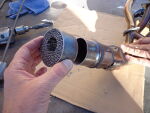 Using a slide hammer type tool with a hook, grab onto the inside edge of the cat and pull it out of the header tube. Our test bike cat came out fairly easy, if yours is stuck we recommend putting a little heat on the outer exit tube with a propane torch.
4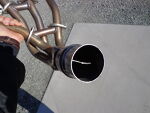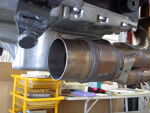 This is what it will look like with the cat removed from the collector. Now sand and de-burr the cut edge cleanly, then reinstall the header back on the bike. New exhaust gaskets are always recommended.
This step is now completed, for the rest of the exhaust installation refer to the 4-1 slip-on install sheet that came with the kit.