The original screen is just terrible, with tons of wind noise and helmet buffeting.
National Cycle revolutionizes windscreen performance with the VStream® Windscreen! The patented "V" shape and advanced dimensional contours push the wind vortex away from the rider's head, resulting in a peaceful, quiet riding environment. The passenger's comfort is improved as well.
Reduced wind noise... less turbulence... superior strength... perfect style.
Dale extensively tested all 3 they offer on his 2016 V-1000, and his pick is either the Sport Screen or the Sport Touring mid.
The Sport Screen is very close to the same height as stock, but works fantastic as far as the buffeting and much smoother air flow. Its a really neat looking dark tint, which is fine since you look over it not through it. Dale recommends this one for riders up to about 5' 10' tall.
The Sport Touring mid is about 2 3/4" taller than stock, and comes in a light tint. It offers the same great results, and is best for riders 5' 11" tall and up.
Both screens bolt right on just like the original screen, fit like a glove, and adjust up and down just like stock.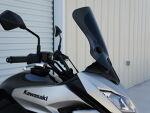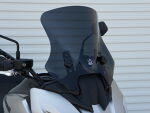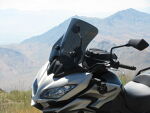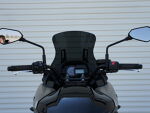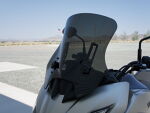 Holeshot V Stream Sport Screen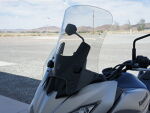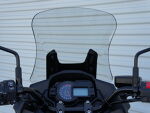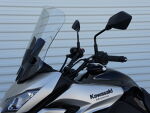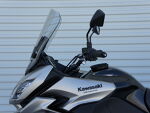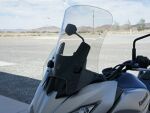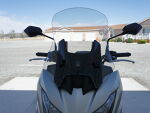 Holeshot V Stream Sport Touring Screen mid
Holeshot V Stream Sport & Touring Screen for Kawasaki Versys 1000
| | | |
| --- | --- | --- |
| Description | Part # | Price |
| Sport Screen | 552854 | $139.95 / each |
| Sport Touring Screen mid | 552855 | $159.95 / each |
All orders plus shipping - Prices subject to change without notice
These are a non-returnable item!