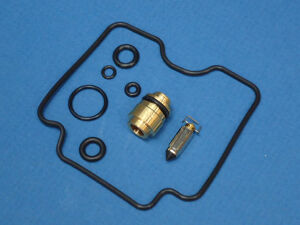 Your ZG1000 Concours is getting older and over time the carbs can start leaking gas from the float bowls. This will not only make for poor running, but can also allow fuel to leak into the crankcase contaminating the motor oil. This can cause severe engine damage if not taken care of. Our new high quality carb rebuild kits are made in Japan by the same company for the OEMs. Each kit includes the float bowl gasket o-ring, assorted other o-rings, and new float needle or seat assembly.
NOTE: These are sold in a set of 4 only, since this is the way it should be done!
Holeshot Carb Rebuild Kit for Kawasaki ZG 1000 Concours
| | | |
| --- | --- | --- |
| Description | Part # | Price |
| Carb Rebuild Kit | 18-2639-4 | $159.95 / each |
All orders plus shipping - Prices subject to change without notice
These are a non-returnable item!