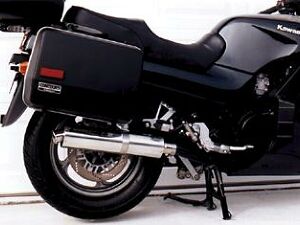 Dale spent several months dyno developing and road testing these beautiful Concours Holeshot slip-ons. The complete set weighs in just a tad over 12 lbs. Your stock mufflers are 10.5 lbs each. Please note ! The mid pipes and stand stop brackets are now CNC bent and hand crafted from 304 stainless steel, then polished as shown below.
Quality of workmanship, performance gains and easy installation were the objectives for this design. We also felt it was important that the new Holeshot Slip-ons have a throaty, yet very mellow exhaust note for those long distance hauls. To say the least, Dale's very pleased with the results
Features Include:
Polished high grade 304 stainless steel mid pipes.
Left elbow pipe includes welded, laser cut side and center stand brackets to locate original rubber stops.
Satin black powder coated, laser cut muffler bracket for good looks and long life.
Holeshot mufflers feature aluminum skins with spun stainless front and rear end caps, and turn down tips. All components are precision tig welded.
Throaty, yet mellow exhaust note for long distance traveling.
Complete with high quality stainless clamps and hardware.
A 2-4 horse power gain throughout the whole rpm band and more useable torque. Between 9000-10,000 rpm it made a full 7-10 hp gain. WOW!
Note: though jetting is not mandatory, these horse power gains were accomplished in conjunction with Dale's recommended Stage 1 Power Package Jet Kit. This is a very simple kit to install, which includes his +4 degree timing advancer and K&N air filter.
Dale does all his development and Dyno work in-house.
Click Here to view dyno charts.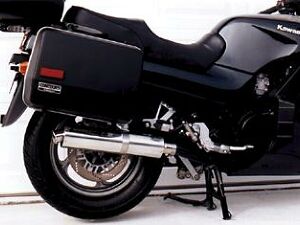 They look very sharp with or without the bags
installed.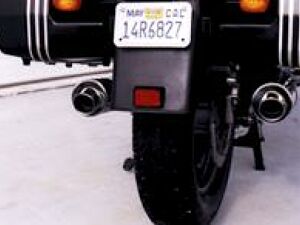 Both Holeshot mufflers follow a much cleaner line
under the bags. They extend back further than the
stockers and the beaded turn down tips help reduce
noise levels, as well as keeping the exhaust soot
off the bags.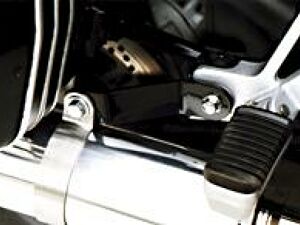 New muffler brackets are laser cut, then powder
coated gloss black for a very clean look and high
durability.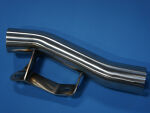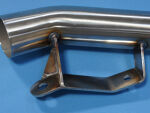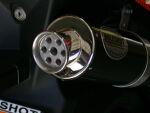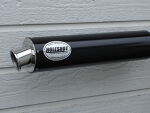 Satin Black Muffler w/
Optional Holeshot
Performance Logo Plate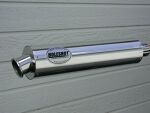 Polished Muffler w/
Optional Holeshot
Performance Logo Plate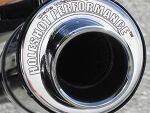 Super clean, laser-etched
Holeshot Muffler End-Cap
Now Standard!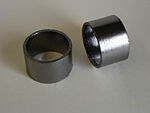 NOTE: You will need to order two Header Pipe Gaskets with your new Holeshot slip-ons.
Holeshot Slip-Ons for Kawasaki ZG 1000 Concours
| | | |
| --- | --- | --- |
| Description | Part # | Price |
| Concours Polished Slip-Ons | ZG-SO | $665.00 / each |
| Concours Satin Black Slip-Ons | ZG-SO-B | $665.00 / each |
| ZL/ZG Header pipe Gaskets | K-HPG | $8.50 / each |
| Holeshot Logo Plate (optional) | EX-NP | $5.00 / each |
All orders plus shipping - Prices subject to change without notice
These are a non-returnable item!
Valco All-In-One High-Temp Silicone

Valco All-In-One High Temp Black Silicone is ideal for exhaust system slip fits during installation. It's one of the most advanced sealers available, is resistant to extreme temperatures up to 600 degrees, and can be used in non high temp applications as well. This product is a necessity to use if you are installing our Holeshot slip-on or complete header system.

| | | |
| --- | --- | --- |
| Description | Part # | Price |
| High-Temp Silicone | V-HTS | $7.50 / each |

All orders plus shipping - Prices subject to change without notice
Magic Mix

Keep your new Holeshot exhaust looking like new!

Magic Mix is known as the lazy man's polish and for a good reason. It's absolutely the best and easiest to use metal polish we've ever tested. It will keep your new Holeshot Slip-on or complete system looking new forever.

It works fantastic on aluminum, stainless, chrome and our coated slip-ons or full header system. We use it daily in our workshop during final assembly, as well as, on all our personal vehicles. It can even be used to rub out fine scratches on painted clear coated finishes.

| | | |
| --- | --- | --- |
| Description | Part # | Price |
| Magic Mix (8oz Bottle) | MM-P | $9.95 / each |

All orders plus shipping - Prices subject to change without notice
Original Bike Spirit Spray Cleaner & Polish

Dale loves this product and often uses it around the shop here at Holeshot . It very well may be the best quick cleaner and polish on the planet. The Original Bike Spirits Spay Cleaner and Polish comes in a aerosol 14 oz. can. This product was formerly branded by Honda and other OEMs, but now is available right from the source. OBS works fantastic on Paint, windscreens, face shields, bare aluminum, chrome , even plastic, vinyl & leather. On leather riding gear it cleans off dirt and bugs without harming the pigment.

| | | |
| --- | --- | --- |
| Description | Part # | Price |
| Spray Cleaner & Polish (14oz Can) | OBS-14 | $9.99 / each |

All orders plus shipping - Prices subject to change without notice