NOTE: These numbered photos are to be used as a guide in conjunction with the written instruction sheet supplied with the kit.
Be sure to review all photos before you start the installation, feel free to call Dale if you have any questions.
775-463-5394
1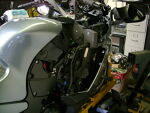 Put the bike up on the center stand. Remove the top luggage compartment and the right side panels as shown.
2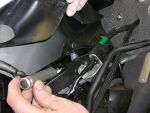 This photo shows the location of the hose that needs to be plugged leading from the air box to the smog valve.
3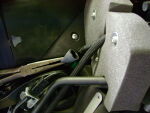 Using a pair of long needle nose pliers, remove it from the bottom of the air box, then pull and hold it out to right hand side allowing access to install the rubber plug.
4
Lube up the cork shaped rubber plug with Armor All and while holding the hose with needle nose pliers install, then push it 2 to 3 inches into hose. Re-install hose into the airbox, then re-assemble bike.