NOTE: These numbered photos are to be used as a guide in conjunction with the written instruction sheet supplied with the kit.
Be sure to review all photos before you start the installation, feel free to call Dale if you have any questions.
775-463-5394
The installation should only take about 1 hour with basic hand tools. The tools needed are - 17mm box end with slight off set, and one more large box end for added leverage as shown. One 14 mm box end to hold the bolt heads. Blue thread lock to re install, perfect torque spec is not needed, just tighten securely.
1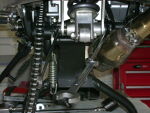 Remove rear wheel to get in there, and use wrenches as shown.
2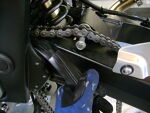 Remove left foot peg assembly, then peel back rubber chain guide. Take the load off swing arm a bit and remove mounting bolts.
3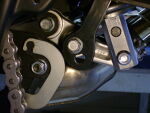 This photo shows the proper mounting position viewing the struts from the left side of the bike. Note! Use the bottom hole to lower or the top hole to raise the bike.