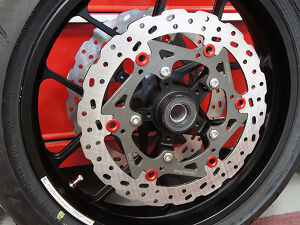 Dale teamed up with Jeff at Ferodo Brake Tech USA to come up a new set of awesome front brake rotors for all Bandit 1250 / FA models.
The advanced design AXIS™ full-floaters offer substantially improved performance in terms of both modulation at the lever and overall braking power. The patented advanced floating system of the AXIS series full-floaters is many times stronger than conventional semi-floating brake rotors. The heart of this patented design has the floater buttons controlling radial and axial float only, they are non-load bearing. All of the considerable braking forces are channeled through the trademarked Direct-Link™ architecture comprising over an 800% increase in surface area load transfer as compared to conventional floating brake rotors...simply a far superior design!
These are the Axis / Cobra design, and are the stock 310mm size for a perfect fit on all 1250s. They are 1 mm wider than stock which helps piston compression, and are true full floaters for much better braking. They are high grade stainless material with optimal pedal design, and hard anodized Titanium color Cryo treated carriers. Ferodo Brake Tech is the first major brake rotor manufacturer to include hi-tech Cryogenic processing on the entire line of performance rotors as a standard operational component of manufacture. The inclusion of this advanced technologically employing computer controlled, 40 hour deep freezing treatment provides greater thermal stability along with improved wear resistance. Ferodo brake pads should be run with these rotors.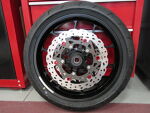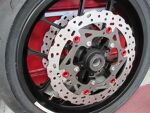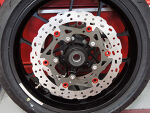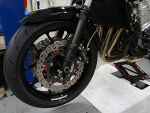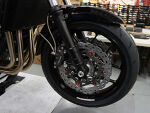 Holeshot / Ferodo Brake Tech Rotors
| | | |
| --- | --- | --- |
| Description | Part # | Price |
| 1250 Right front rotor | FBT-RTR | $320.00/each |
| 1250 Left front rotor | FBT-LFR | $320.00/each |
| 1250 Ferodo front brake pads | FDB-574ST | $38.95/each |
All orders plus shipping - Prices subject to change without notice