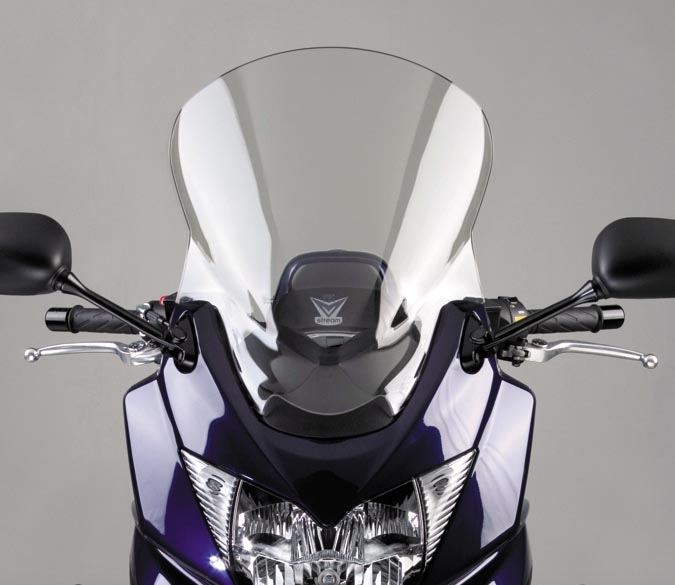 COMFORT – OPTICS – STRENGTH
Holeshot now offers the National Cycle Bandit 1250 VStream® Windscreen! that revolutionizes performance with the new The patented "V" shape and advanced dimensional contours push the wind vortex away from the rider's head, resulting in a peaceful, quiet riding environment. The passenger's comfort is improved as well. Uses existing mounting hardware for a direct replacement. Lexan® polycarbonate is used for outstanding optics and impact strength 23X better than acrylic. Then we add our exclusive Quantum™ hardcoat for scratch resistance 10X better than FMR coating and 30X better than acrylic replacement screens.
This is one tough windscreen!
Reduced wind noise... less turbulence... superior strength... perfect style. The VStream revolution is here!
State-of-the-art Quantum™ coated Lexan® polycarbonate gives the VStream outstanding optical clarity and strength. It has 30X more abrasion resistance than acrylic materials, and 23X better crack and impact resistance. This is the best, toughest, most long lasting windscreen material you can buy.
Thick, sturdy 4.0mm Quantum™ hardcoated Lexan® polycarbonate. DOT Approved. Covered by National Cycle's 3-YEAR UNBREAKABLE WARRANTY!
The 1250 Screen is available in the 19" tall x 15.5" wide light tint or the 22" tall x 16.5" wide clear. VStream Windscreens are measured vertically from the bottom center edge to the top of the screen, and horizontally across the back at the widest point. Dale says this is by far the best and most effective touring screen made for the Bandit 1250.
NOTE: If you own a late model water cooled 650 please contact Dale before ordering, Canadian models for example use the 1250 screen
National Cycle Bandit 1250 VStream Windscreen
| | | |
| --- | --- | --- |
| Description | Part # | Price |
| 19" Light tint | 55-2168 | $169.95/each |
| 22" Clear | 55-2167 | $179.95/each |
All orders plus shipping - Prices subject to change without notice
These are a non-returnable item!