2014+ DL-1000 V-Strom Holeshot Supertune Pro Stage 1 Tuning Kit
Installation Photo Page
(The fuel tank should already be removed before you start)
NOTE: These numbered photos are to be used as a guide in conjunction with the written instruction sheet supplied with the kit. Be sure to review all steps and photos before you start the installation, feel free to call Dale if you have any questions.
775-463-5394
1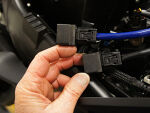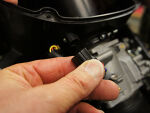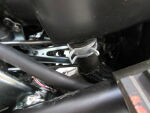 Loosen up front gas tank mount, remove both IAP sensors, unplug rear IAT sensor, and remove lower air box breather hose.
2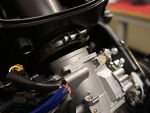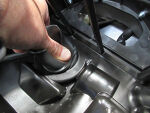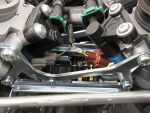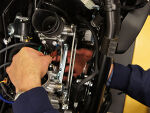 Loosen rear TB clamp, collapse front velocity stack and pull off air box. Reach under frame and remove front injector plug.
3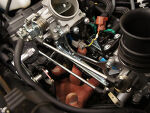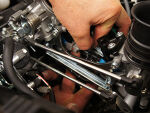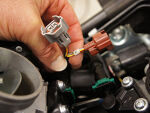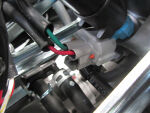 Remove rear injector plug, I found pushing on the release pin, along with pulling gently on both wires with needles nose pliers works best ( be patient ) > With both plugs removed install one Supertune harness plug to the front injector.
4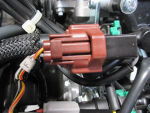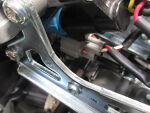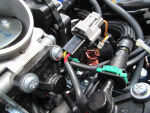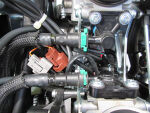 Plug the other matching Supertune harness plug into the original front injector plug, then repeat this step with the rear injector and harness plugs. Neatly tuck away the connector harness plugs as shown.
5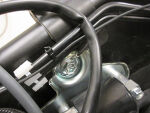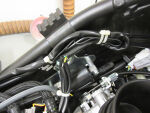 Connect black ground lead to coil mounting bolt as shown, neatly bundle and nylon tie harness, being sure to leave enough length to mount tuner behind the gas tank, on the ABS controller rubber cover flap.
NOTE: You want the sub harness plug just in front of the coolant burp tank, accessible by loosening the left side panel!
6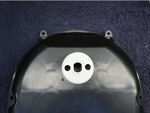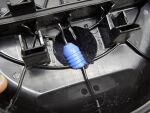 Using a 1 3/4" hole saw drill the hole in the center of air box cover being sure its on the incoming air to filter side then clean up, blow out and vacuum.
7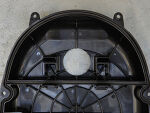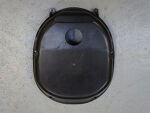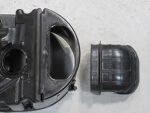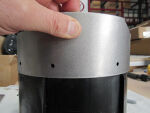 These first 2 photos show the added 1 3/4" intake hole all done and in the proper location, remove the lower intake snorkel and start to fit stainless weather shield as shown. Be sure the shield is straight and pushed down against the outer ribs, and also even right to left.
8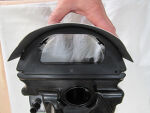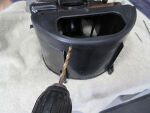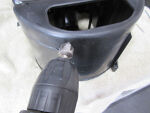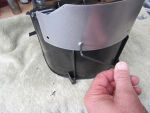 Drill your first hole using a 3/16" drill bit, then de-burr. Install one supplied stainless button head 5mm bolt, with flat washer and nylok nut on inside. Lightly snug at this time.
9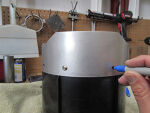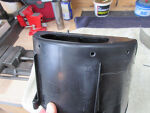 Mark the other 3 hole locations with a new sharpy, then remove shield, drill and de-burr holes, or you can also drill in place.
10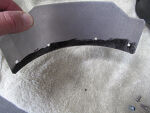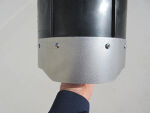 Blow out and vacuum the air box. Apply a very thin even coat of silicone sealer as shown, then install the weather shield and firmly snug the lock nuts being sure to use one flat washer under each.
11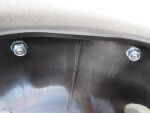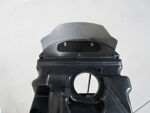 Two more photos of weather shield installed.
12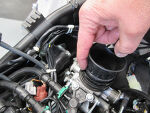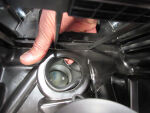 Apply a light coat of Armor All to the front velocity stack lip groove. Check and be sure all wires and harness plugs are positioned to clear the weather shield, you may have to test fit a couple times. Reaching through the air box as shown collapse the stack to get it started, and through the air box. Do not push down into lip groove yet.
13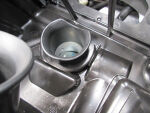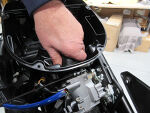 First photo showing air box over front velocity stack only, not fully seated.With rear clamp loose, push firmly fully seating rear stack onto the throttle body, then tighten securely being sure it does not climb up on the mouth of the TB. Be sure to install with it clean and dry (No Lube).
14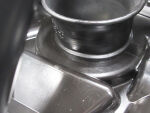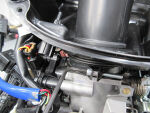 Now push the air box down fully seating it into the lip grove of front stack. Check rear clamp bolt one more time fully seating against the spacer as shown.
15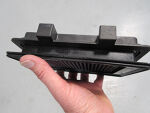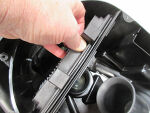 Install the K&N air filter element into the outer rim as shown, then slide it into air box channels and fully seat.
16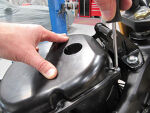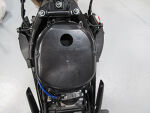 Install the air box lid holding it down snug, then starting with the front two screws work your way back tightening them all. Re-attach the two sensors, rear plug connector, and the lower breather hose. Now tighten back up the front gas tank mount.
17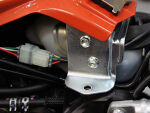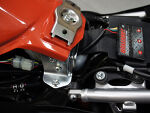 Route the wiring so the sub harness plug is in shown location. Remove fuel tank bracket mount bolt, lift and slide harness under mount, then reinstall bolt.
18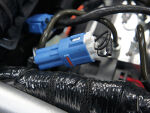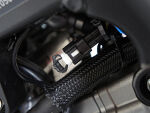 Lift ABS module rubber flap and locate blue 02 sensor connector. Disconnect, then plug in the 02 bypass and tuck away. Now mount the Supertune as shown above using Velcro in the kit.The front 02 sensor harness plug is located above the water pump, install the other 02 bypass and lightly nylon tie to the wiring harness.