NOTE: These numbered photos are to be used as a guide in conjunction with the written instruction sheet supplied with the kit.
Be sure to review all photos before you start the installation, feel free to call Dale if you have any questions.
775-463-5394
1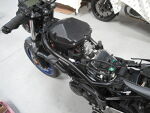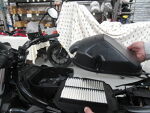 Remove the fuel tank, side covers and seat. Remove air box top cover and air filter.
2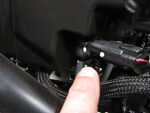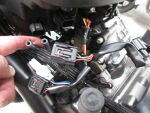 Mark this plug as shown and front hose with white dot. Remove other connectors from the air box, its not a bad idea to take a photo of these first.
3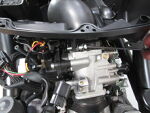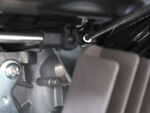 Using a 3mm ball driver tool loosen the rear and front velocity stacks attached to each throttle body.
4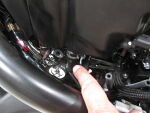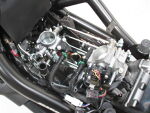 Remove this breather hose, then remove the air box.
5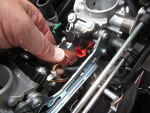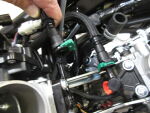 Remove front injector plug, and rear injector fuel line.
6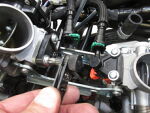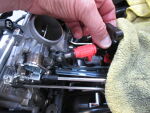 Carefully remove rear injector bolts, then the injector.
7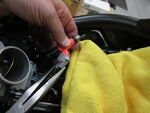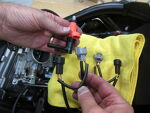 Remove the injector plug, then plug in one of the tuner plugs to the injector being sure its fully seated. A little dielectric grease on the rubber seal only is not a bad idea. Do not get it on the pins!
8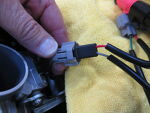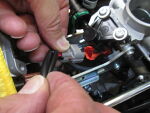 Now plug in the matching tuner plug to the original rear injector plug. Connect the other two plugs to the front injector the same way.
9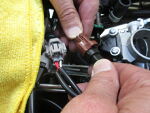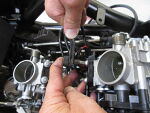 With the front injector finished, reinstall the rear injector and snug bolts. Do not over tighten!
10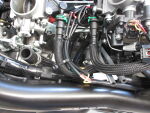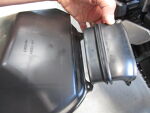 Install the rear fuel line to injector, and tidy up wires as shown. Remove the rubber inlet snorkel form the air box.
11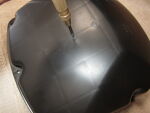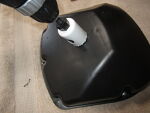 Lightly center punch the air box lid as show, then drill 1.5" inch hole using a hole saw you can buy at any hardware store.
12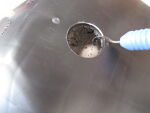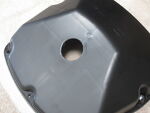 De burr hole as shown on both sides and blow out all chips.
13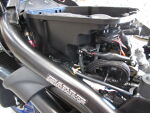 Reinstall the lower air box to the throttle bodies and snug both clamps, double check that the velocity stacks are fully seated on the TBs. Re connect all the plugs as hoses to the proper connectors.
14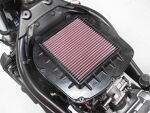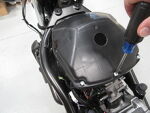 Install the K&N filter being sure its seated properly, then reinstall the top air box cover snugging all screws evenly.
15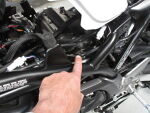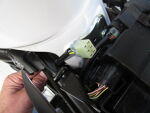 Route the tuner harness as shown with the plug between the frame and fuel tank.
16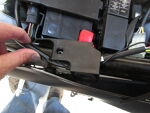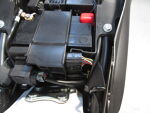 Remove the left hand battery box bolt and slip the tuner harness between it and the frame tube, and neatly route to rear tail section. Reinstall, the hold down bolt.
17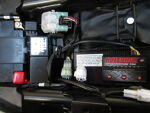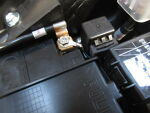 Plug the tuner into the wiring harness, and mount to the inner fender using the provided Velcro. Connect the black ground wire directly to the battery ground post, then bundle wires and neatly nylon tie. Now reassemble the rest of the bike and its ready for a test ride!