NOTE: These numbered photos are to be used as a guide in conjunction with the written instruction sheet supplied with the kit.
Be sure to review all photos before you start the installation, feel free to call Dale if you have any questions.
775-463-5394
1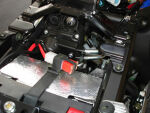 If you are installing a new exhaust , un-plug and remove the EXUP servo motor from the bike. remove the plastic cover, then disconnect and remove the cables. Re-install the servo motor and plug back in to the harness.
2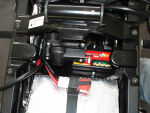 This photo shows where to mount the EFI box on the new FZ1.
3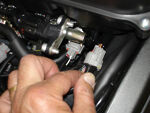 Piggy back each EFI plug into the injector plug on the throttle bodies then connect the bikes harness plug to the corresponding EFI plug as shown. Note! Be sure all connections are fully seated and clipped into place.
4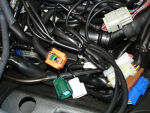 Neatly bundle up extra EFI harness wire and nylon tie as shown.
5
Connect EFI ground wire directly to the negative battery terminal.
6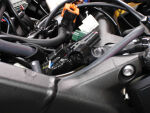 Be sure to disconnect the 02 sensor plug as shown , also internally plug the hose from the bottom of the air box leading to the AIS smog valve. This can be done with a solid cork shaped rubber plug. You can also cap off the nipple in the air box leading to the hose and achieve the same results, but if you do also be sure to nylon tie as well. This step helps eliminate most decel popping when a exhaust is added.