These photos are intended to be used as general information. Please be sure to follow Dale's complete installation instruction sheet included with your FZ1 Holeshot Stage 2 Jet Kit.
1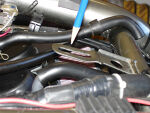 Bend the air box mounting tab up, to allow more room when removing the air box
2
Once filters are installed the clutch cable can be routed on top of the left filter
3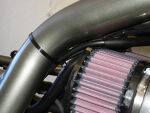 Lightly nylon tie the coolant over flow hose to the frame tube and position over the right air filter
4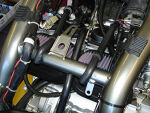 Photo of hose routings , Note! Rear breather hoses are removed from carbs , leave plastic nipples open
5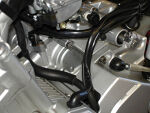 Remove the air box drain hoses, and lower breather hoses leading behind the counter shaft sprocket cover
6
Install Stainless battery tray as shown, using the original air box mounting bolts with provided stainless flat washers and nylock nuts
7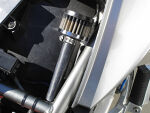 Route the crank case breather hose along the left frame tube, behind the left side panel. Filter should be located as shown.