NOTE: These numbered photos are to be used as a guide in conjunction with the written instruction sheet supplied with the kit.
Be sure to review all photos before you start the installation, feel free to call Dale if you have any questions.
775-463-5394
1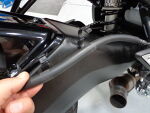 Un-clip the rear brake line, and remove the hold down bracket as shown.
2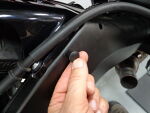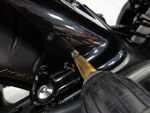 Carefully remove both plastic brake line retainer clips from the swing arm. Now install and fully seat the two provided plastic push rivets in the original mounting holes. Reinstall the original fender mounting bolt. Using a stepped drill bit carefully drill one new centered hole to mount one of the brake line retaining clips to the side of the fender. Be sure to check the hole size as you drill and be sure to stay away from the rear tire.
3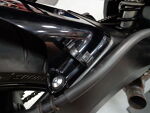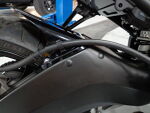 Install the rear brake line retainer clip in the new drilled mounting hole, then mount and clip the rear line in place. Your now all done, and have plenty of clearance to install the Holeshot high mount mid pipe per my install sheet.
Very Nice and Super Clean!