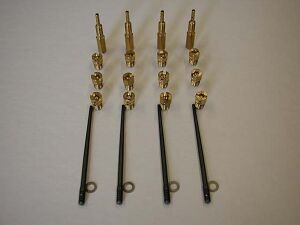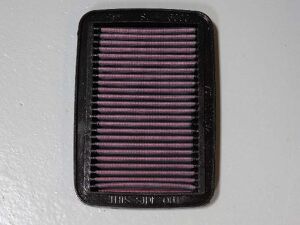 The Holeshot stage two air box kit is available for the 2001-06 Bandit 1200. Dale considers this new kit to be the best of both worlds for the average street rider. What he went after is the best overall low and mid range performance that the Holeshot stage one air box kit delivers, while getting close to the HP numbers on the top end of the full Holeshot stage two no air box kit, which is mostly designed for the all out hot rodder, or someone building up a motor. Dale spent nearly six months on and off the dyno doing the R&D work, and he is well known for going the extra mile to get his Holeshot kits right.
You will really appreciate how this kit delivers smooth overall power even under full throttle load in the lower RPMs. The Holeshot Stage two air box kit retains the original late model air box. Dales air box mod requires that you to trim the back air filter cover fully open, with only the outer ring retained to secure the air filter in the front half of the air box. The internal screen is also removed. The K&N air filter is completely open for maximum air flow for big power and torque gains. The filter is still well hidden under the seat and frame rails to protect it from the weather. The air box mod is simple and can be done with normal hand tools, a dremel tool and some sand paper for the final clean up.
Dale's kit includes a high flow replacement K&N filter, custom tapered Holeshot hard anodized needles, e clips, stainless mill spec shims, three sets of original Mikuni main jets,original Mikuni pilots jets and stainless float bowl allen bolts. Detailed installation instructions and tuning tips for the home tuner are also included. Dale is also only a phone call away if you need a hand with anything. This kit is compatible with all Holeshot slip-ons or full header system. Any aftermarket pipe will also work fine with it when set up properly.
Click Here for Dyno charts.
NOTE: It is very important to install our
Holeshot +5 Degree Timing Advancer
with the your new Stage 2 kit. The fuel curve was calibrated with the advancer installed for the optimum results (Sold separately)!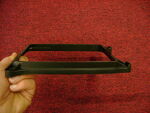 Holeshot Comp 1 Slip-On and Stage 2 Air Box
Jetting Kit with Timing Advancer
Holeshot Stage 2 Air Box Jet Kit for Suzuki Bandit 1200 (2001+)
| | | |
| --- | --- | --- |
| Description | Part # | Price |
| Air Box Jet Kit | B1201-JK2BK | $208.00 / each |
All orders plus shipping - Prices subject to change without notice
These are a non-returnable item!
K&N Recharger Air Filter Service Kit

The K&N Recharger cleaning kit includes the 12 oz bottle of air filter cleaner and the 6.5oz air filter oil spray. This is the best way to go for cleaning and maintaining your K&N air filters. Doing so will make them last and last, keep the carbs or injectors cleaner and offer the best performance.

| | | |
| --- | --- | --- |
| Description | Part # | Price |
| Air Filter Service Kit | 99-5000 | $19.95 / each |

All orders plus shipping - Prices subject to change without notice