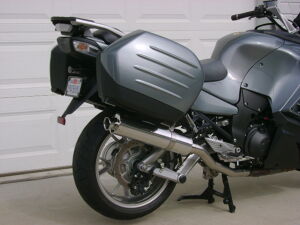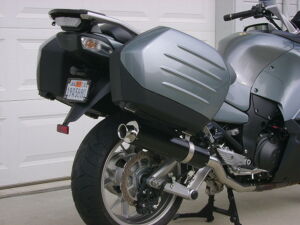 Dale's Concours C14 slip-on is a real work of art. It features our polished 304 air craft stainless high flow mid pipe, stainless hardware with custom clamps, no springs, and a hand crafted center stand stop.Our Holeshot 17" Concours mufflers are carefully assembled in house, and are available either fully polished or with the satin black outer skin.Our Holeshot Performance laser etch mark is now standard on all end caps as shown, and our logo plate can be added as an option. If you want the most power and torque go with the Comp 2 core, and also dont worry about it being super loud, because running it with the original front header its really not until you really whack it open hard. If you want it more stealth then consider our street core that will only make about 1.5 less hp or our optional Holeshot Muffler DB Killer. Not only will the Holeshot Concourse C14 Slip-on add performance, it will also remove nearly 14 lbs of unwanted wieght. This equals free horsepower and improved handling. The C14 slip-on can be installed without any re-tuning or mapping and pick up performance. Though not mandatory a Dynojet power commander can be installed with Dale's custom mapping, which would provide the most horsepower, torque and best overall drivability. Dale recomends trying the slip-on first and then adding the power commander only if necessary.
Click Here for tips on plugging smog valve hose to help eliminate decel popping.
We also offer a optional heat shield for riders that have a large foot to prevent your heel from contacting the elbow pipe. Dale recommends trying it first without and only purchase it if needed.
Running the Dynojet PC-3 with Dales custom map, you can expect a 6 to 8 hp gain and 6 to 8 ft-lbs of mid-range grunt.
Click Here to view dyno charts.
Dales custom map is available free to our C-14 Holeshot slip-on customers via email after you purchase.
Click Here for C14 customer testimonials.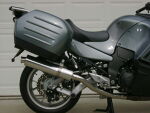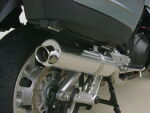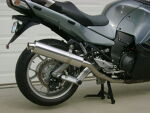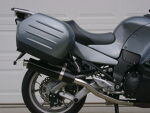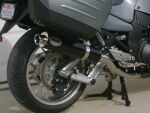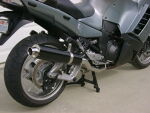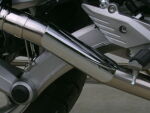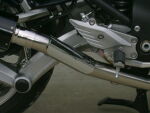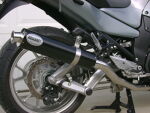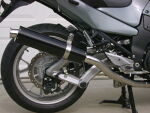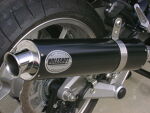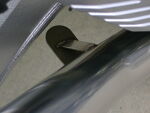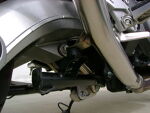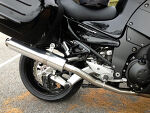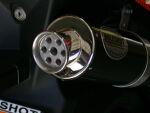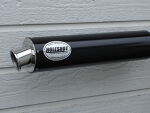 Satin Black Muffler w/
Optional Holeshot
Performance Logo Plate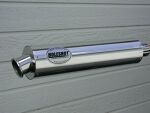 Polished Muffler w/
Optional Holeshot
Performance Logo Plate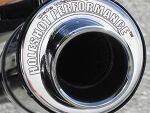 Super clean, laser-etched
Holeshot Muffler End-Cap
Now Standard!
Holeshot Slip-Ons for Kawasaki C14 Concours
| | | |
| --- | --- | --- |
| Description | Part # | Price |
| 17" Polished Comp 2 | C14-SOP-17C2 | $410.00 / each |
| 17" Black Comp 2 | C14-SOB-17C2 | $435.00 / each |
| 17" Polished Street | C14-SOP-17S | $410.00 / each |
| 17" Black Street | C14-SOB-17S | $435.00 / each |
| Holeshot Logo Plate (optional) | EX-NP | $5.00 / each |
| Heat Shield (optional) | 08-1651 | $28.00 / each |
All orders plus shipping - Prices subject to change without notice
These are a non-returnable item!
Valco All-In-One High-Temp Silicone

Valco All-In-One High Temp Black Silicone is ideal for exhaust system slip fits during installation. It's one of the most advanced sealers available, is resistant to extreme temperatures up to 600 degrees, and can be used in non high temp applications as well. This product is a necessity to use if you are installing our Holeshot slip-on or complete header system.

| | | |
| --- | --- | --- |
| Description | Part # | Price |
| High-Temp Silicone | V-HTS | $7.50 / each |

All orders plus shipping - Prices subject to change without notice
Magic Mix

Keep your new Holeshot exhaust looking like new!

Magic Mix is known as the lazy man's polish and for a good reason. It's absolutely the best and easiest to use metal polish we've ever tested. It will keep your new Holeshot Slip-on or complete system looking new forever.

It works fantastic on aluminum, stainless, chrome and our coated slip-ons or full header system. We use it daily in our workshop during final assembly, as well as, on all our personal vehicles. It can even be used to rub out fine scratches on painted clear coated finishes.

| | | |
| --- | --- | --- |
| Description | Part # | Price |
| Magic Mix (8oz Bottle) | MM-P | $9.95 / each |

All orders plus shipping - Prices subject to change without notice
Original Bike Spirit Spray Cleaner & Polish

Dale loves this product and often uses it around the shop here at Holeshot . It very well may be the best quick cleaner and polish on the planet. The Original Bike Spirits Spay Cleaner and Polish comes in a aerosol 14 oz. can. This product was formerly branded by Honda and other OEMs, but now is available right from the source. OBS works fantastic on Paint, windscreens, face shields, bare aluminum, chrome , even plastic, vinyl & leather. On leather riding gear it cleans off dirt and bugs without harming the pigment.

| | | |
| --- | --- | --- |
| Description | Part # | Price |
| Spray Cleaner & Polish (14oz Can) | OBS-14 | $9.99 / each |

All orders plus shipping - Prices subject to change without notice