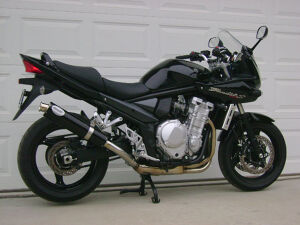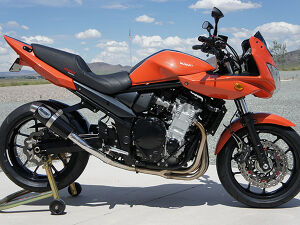 Dale's Bandit 650/1250 slip-on is a real work of art. It features our polished 304 air craft stainless high flow mid pipe, stainless hardware with custom clamps and no springs. Our hand crafted in house Holeshot mufflers come either fully polished or with the satin black outer skin in 17 " or 14 " lengths. The Comp 2 Holeshot 10" black bad boy is now available in our slip-on form, as shown above on ( IGOR ) Dale's 1250 project bike with full system. Our Holeshot Performance laser etch mark is now standard on all end caps as shown, and our logo plate can be added as an option. If you want the most power and torque go with the Comp 2 core, and also dont worry about it being to loud, because running it with the original front header its not at all. If you want super stealth then consider our street core that will only make about 1.5 to 2.0 hp less. Not only will the Holeshot 650/1250 Slip-on add performance, it will also remove nearly 9 lbs of unwanted weight. This equals free horsepower and improved handling.
Dale did not want a ugly center stand stop bracket welded onto the mid pipe since some may remove the heavy center stand and use a rear race stand, remember this bike has swing arm spool mounts on the swing arm. Dale came up with a simple center stand rubber bump stop kit that is sold separately for those that want to keep the center stand. Click here to view installation instructions.
The 1250 will run ok with only the slip-on added and make about 4 more hp, but with Dales Stage 1 EFI Supertune tuner tune, K&N filter and air box mod you can expect a full 9 to 10 hp gain, and up to 92 ft lbs of grunt, and really help out the throttle response. Going to his stage 2 tune gets you another 6 to 7 HP above 6500 rpm. It will also run much smoother throughout the entire rpm range with these upgrades.
Click Here to view Dyno Charts
Click Here to view EFI Supertune Tuning Box information.
Click Here to view GI Pro digital gear indicator with adjustable timing retard eliminator
Click Here to view Dale's 1250 video clips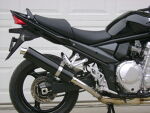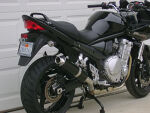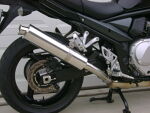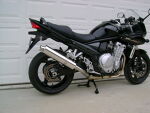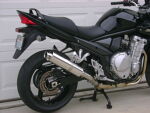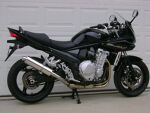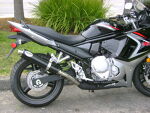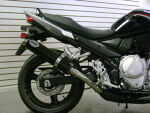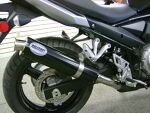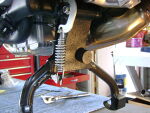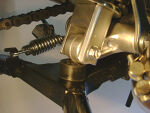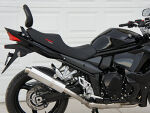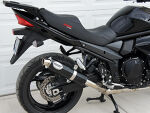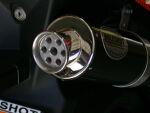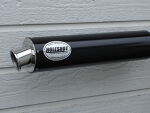 Satin Black Muffler w/
Optional Holeshot
Performance Logo Plate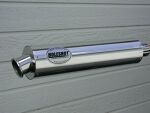 Polished Muffler w/
Optional Holeshot
Performance Logo Plate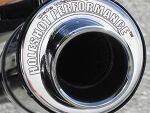 Super clean, laser-etched
Holeshot Muffler End-Cap
Now Standard!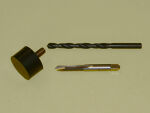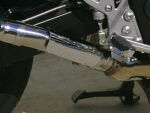 Holeshot Slip-On for Suzuki Bandit 650/1250
| | | |
| --- | --- | --- |
| Description | Part # | Price |
| 17" Polished Comp 2 | B50-SOP-17C2 | $390.00/each |
| 17" Black Comp 2 | B50-SOB-17C2 | $415.00/each |
| 14" Polished Comp 2 | B50-SOP-14C2 | $390.00/each |
| 14" Black Comp 2 | B50-SOB-14C2 | $415.00/each |
| 17" Polished Street | B50-SOP-17S | $390.00/each |
| 17" Black Street | B50-SOB-17S | $415.00/each |
| 14" Polished Street | B50-SOP-14S | $390.00/each |
| 14" Black Street | B50-SOB-14S | $415.00/each |
| 10" Black Bad Boy | B50-SOB-10C2 | $415.00/each |
| Heat Shield (Optional) | 08-1651 | $28.00/each |
| Holeshot Logo Plate (Optional) | EX-NP | $5.00/each |
| 1250 Center Stand Stop Kit | B50-CSS | $21.00/each |
All orders plus shipping - Prices subject to change without notice
Valco All-In-One High-Temp Silicone

Valco All-In-One High Temp Black Silicone is ideal for exhaust system slip fits during installation. It's one of the most advanced sealers available, is resistant to extreme temperatures up to 600 degrees, and can be used in non high temp applications as well. This product is a necessity to use if you are installing our Holeshot slip-on or complete header system.

| | | |
| --- | --- | --- |
| Description | Part # | Price |
| High-Temp Silicone | V-HTS | $7.50 / each |

All orders plus shipping - Prices subject to change without notice
Magic Mix

Keep your new Holeshot exhaust looking like new!

Magic Mix is known as the lazy man's polish and for a good reason. It's absolutely the best and easiest to use metal polish we've ever tested. It will keep your new Holeshot Slip-on or complete system looking new forever.

It works fantastic on aluminum, stainless, chrome and our coated slip-ons or full header system. We use it daily in our workshop during final assembly, as well as, on all our personal vehicles. It can even be used to rub out fine scratches on painted clear coated finishes.

| | | |
| --- | --- | --- |
| Description | Part # | Price |
| Magic Mix (8oz Bottle) | MM-P | $9.95 / each |

All orders plus shipping - Prices subject to change without notice
Original Bike Spirit Spray Cleaner & Polish

Dale loves this product and often uses it around the shop here at Holeshot . It very well may be the best quick cleaner and polish on the planet. The Original Bike Spirits Spay Cleaner and Polish comes in a aerosol 14 oz. can. This product was formerly branded by Honda and other OEMs, but now is available right from the source. OBS works fantastic on Paint, windscreens, face shields, bare aluminum, chrome , even plastic, vinyl & leather. On leather riding gear it cleans off dirt and bugs without harming the pigment.

| | | |
| --- | --- | --- |
| Description | Part # | Price |
| Spray Cleaner & Polish (14oz Can) | OBS-14 | $9.99 / each |

All orders plus shipping - Prices subject to change without notice