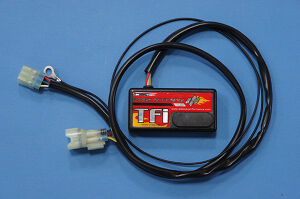 Dale recently teamed up with Dobeck Performance to make available the new updated totally plug in EFI Supertune tuner. The updated version does not require you to remove the fuel tank to plug into the bikes wiring harness. The fuel tank will still need to be removed if your installing slip-ons or a pipe to block off the PAIR valve only, which helps eliminate decel popping. The EFI Supertune tuner does not require that you re-map your electronic fuel injection to dial in your tune up. It simply allows the user to adjust the air / fuel mixture in three areas. Idle and low rpms, steady cruise, mid range, on off throttle applications and wide open full load throttle.There is also an adjustment allowing you to set when the full throttle fuel curve begins to come in at what rpm.
All that is needed is a small flat blade screw driver and some time to play. Dale has spent countless hours on his Dynojet 250 I dyno doing all the pre testing for you, as well as road testing The DL- V Stroms and SV models from sea level to over 9600 feet elevation. He achieved a perfect 13:1 to 13:8 A/F under all throttle conditions. These motors make some nice power and torque gains over stock and Dale's tune up really smooths out the mid range response, plus some even pick up a little fuel mileage out on the road. When you purchase your EFI Supertune tuner from Holeshot you will get Dale's matching settings over the phone from him personally or via e-mail if your out of the USA. This process will be as close to a plug and play tune up as possible. Please don't expect to get Dale's settings if you buy a EFI Supertune tuner at another discount house to save a few bucks. Note! Dale's EFI Supertune tuner settings match our Holeshot slip-ons and should work well with other brands as well as. The EFI Supertune tuner will also work well with the stock mufflers to smooth out the power curve, plus add a little power and torque. Minor adjustments may be needed, depending on the bike, weather conditions and the elevation where you live and ride. Dale is always willing to help on this regard.
Click here to view Dale's before and after dyno charts.
Click here to view photos on how to block off PAIR valve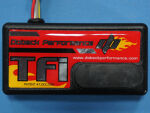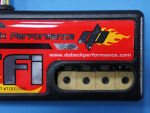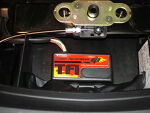 Suzuki SV/DL-1000 EFI Supertune Tuner
| | | |
| --- | --- | --- |
| Description | Part # | Price |
| SV / DL -1000 2002-06 | 2058-ST | $239.95/each |
| SV / DL -1000 2007-09 | 2059-ST | $239.95/each |
All orders plus shipping - Prices subject to change without notice