The 70's...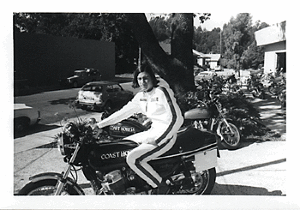 Well here he is, the youngster himself at 18 years old. This is the first Honda 750F which he ran in the Superstock production class.
---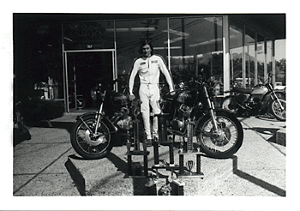 This same year Dale worked as a mechanic at Coast Honda in Santa Cruz, California. Coast became his sponsor. Dale won several motorcycle bracket races that season, the Fremont Raceway Championship, and set both National drag racing production records on his 400 and 750 Four Hondas.
---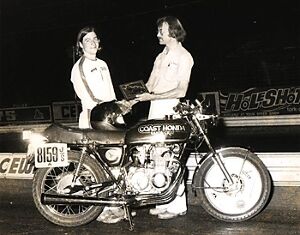 Dale won his first National event in 1976 on his Honda 400 Four. He swept the Street Eliminator Class and beat Vic Force the reigning, 4 time National Champion, in the final round for the win.
Did you happen to notice the Holeshot billboard in the background? This was purely coincidence and was actually the name of a racing torque converter made by The B&M Company for car racing.
---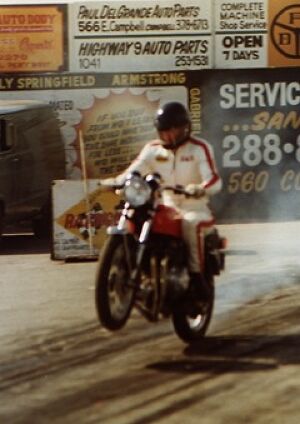 Dale's 400 Four was a little buzz bomb. It was a great bike to hone his skills for the ultra high horsepower bikes to come.
---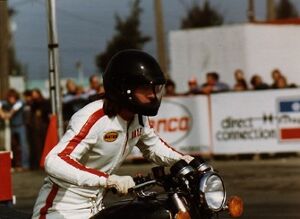 A very young Dale concentrating on the tree. Remember, if you snooze you lose.
---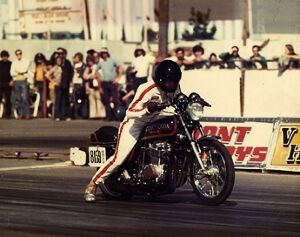 Dale's 1975 750F was set up to run in the C/SS Superstock Class. At quite a few national events he raced the 400 in one class and the 750 in another. The Super Stock Class allowed lowering the chassis and a lighter weight brake, gearing changes, carb rejetting, ignition upgrades and the addition of a free flowing exhaust system. Dale set both the ET and mph records on both bikes. Dale's one of those guys that was born with a natural clutch hand. He says a perfect launch on a production bike is like threading silk through a needle-it has to be spot on.
---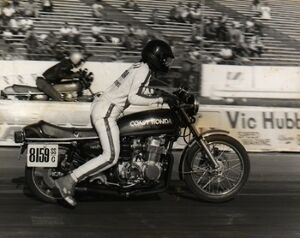 The guy in the other lane was one of Dale's fiercest competitors in 750 superstock in the West Coast Swing. Dale usually pulled him about a bike length at most events. This Dragbike USA National at Fremont Drag strip was one of the few times he beat Dale, and we're talking several bike lengths. When it came time for the motor tear down, which was required any time you won a national in the production categories, he was found to be bored to 836cc's and was thrown out of the series, giving Dale the win. Cheater, cheater, cheater...
---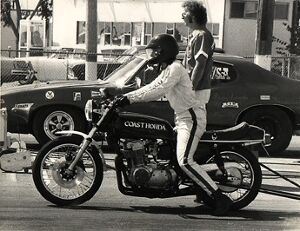 Dale bored out his Honda to 836cc's, ran a Megacycle cam, PM valve springs and built a wheelie bar next. At this stage of the game he was running strictly in bracket 1, racing against cars and motorcycles. This bike ran very strong, consistently turning 11.18 over 122 mph.
---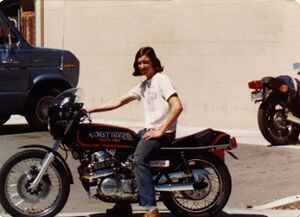 20 year old Dale built his first turbo bike in 1976. His Honda 750F was 820cc's with MTC turbo forged pistons, action 4 forged steel connecting rods, stainless oversized valves and a head clean up by young Dale. He ran a 10.60 ET at 135 mph as seen above in street trim. In 1976 that was a whip-ass street bike.
Most of all dig that hair cut!
---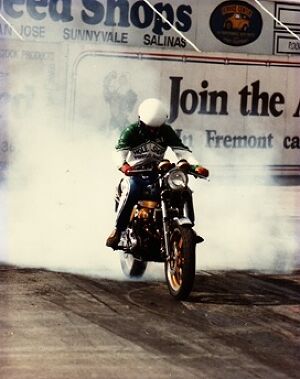 This 970cc turbo Honda was just one of many Dale built in the late 70's. Back up the timing, add 30 lbs. of boost, run race gas and all the street bikes, including most of the Kawasakis, didn't have a chance with Dale at the controls. This bike ran 143 mph in the 1/4. At the time, that was very very fast.
---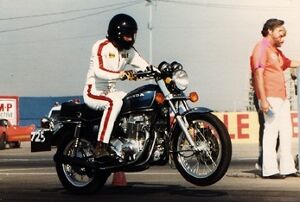 Dale built this 890cc Hondamatic strictly to bracket race in 1978. He gave the car guys fits, winning almost every Wednesday night and on Sundays. It only ran 12.30's, but every pass was within a hundredth of a second and that what it takes to win at bracket racing.
---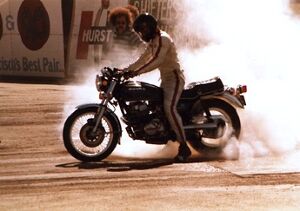 Dale thought it would be kinda fun to punch the Hondamatic out to 1000cc's and add a turbo. These bikes never caught on with the general public and only offered a low and high gear. They had a torque converter, valve body and clutch packs very similar to an automotive transmission. It didn't leave very hard, but when the boost came up and you clicked into high gear it would carry the wheel about 8" to around 110 mph then settle down. The bike ran a relatively moderate 11.50 ET, but at an incredible 138 mph. It really surprised a few racers at the finish line...Big time.
---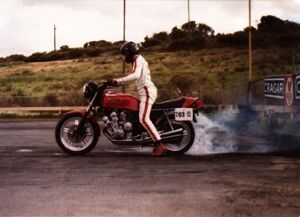 In 1979 Dale set the A/S and A/SS production records on his CBX. His stock record was 11.18 ET at 122 mph which held for years. The Superstock Class allowed the same mods as his 750 Super Stocker. His mark for the class was 10.66 ET, 128 mph. The CBX was really hard to ride because of its light flywheel effect and lack of low end torque, so you had to leave pretty much wide open with perfect clutch finesse.
---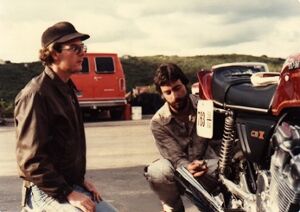 Dale changed the gearing at each track depending on conditions to squeeze out every last bit of mph.
---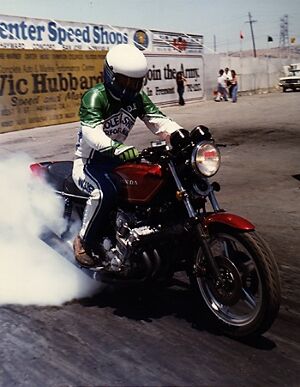 Smoking it up on the seething six cylinder.
---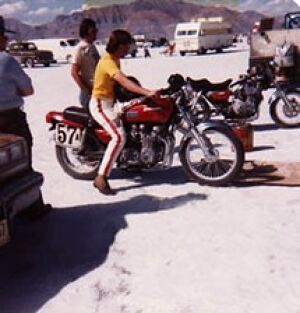 Warming up the motor for another 5 mile flat out run.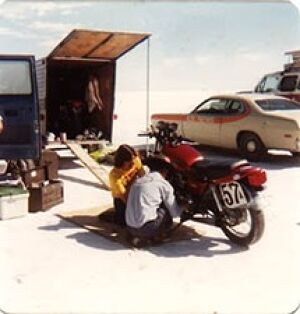 Dale and Dennis Dean, the master mind behind Denco, changing the gearing and jetting.
Dale went to Bonneville Salt Flats in 1978. He rode for Denco, a thriving motorcycle performance parts company of the seventies. He set the 750 non-faired, normally aspirated record @ 143 mph on their 738cc highly pumped KZ650. Bonneville's a mile high in elevation so it takes a lot of horsepower to run the numbers there. This bike ran so strong it ran 10.80s at the strip with the Bonneville gearing, crossing the speed traps in fourth gear. It ran 10.30s with a wheelie bar, small slick and a gear change for the drag strip.
---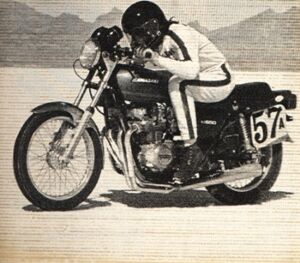 Dale on the gas at Bonneville. (Photo from Custom Rider Magazine article.)
---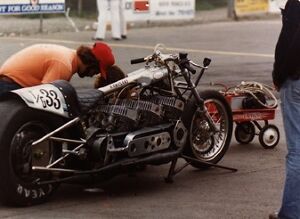 Denco built this triple motor H2-750 top gas bike. Boris Murray rode it and broke Terry Vance's record. Vance held it on a double motor Honda at the time. Dale took this photo in November 1977. What a handful.
---