The 80's...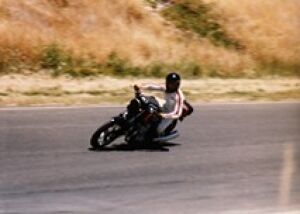 Road race practice day at Sears Point Raceway.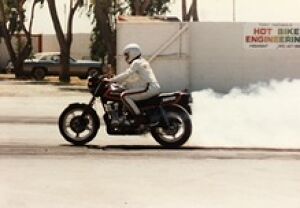 Smokin' it out of the bleach box.
In 1980 Dale's '79 Honda 750-F twin cam pulled double duties setting both the Stock and Superstock national drag racing records. Dale also went AFM club road racing in the 750 production class that year, just for fun. He finished third or better every race he entered. At that time, he raced against someone you may have heard of--a young Rich Oliver.
---
First Gas Bike in the 7's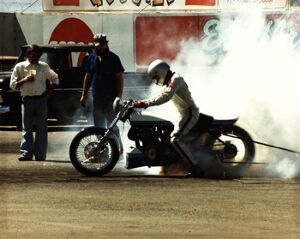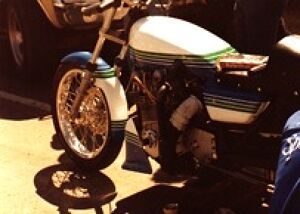 Dale got his first pro ride in 1980, when Sandy Kosman hired him to pilot his newly assembled Kawasaki turbo Funny Bike. They were all rewarded when Dale ripped out a 7.95 ET @ 167 mph during an IDBA (International Dragbike Assoc.) national event at Fremont Raceway. This made Dale the first person to break into the 7's on a gasoline powered sit-up type Funny Bike. It was done with a stock foot shifted trans and a relatively small 18" slick. He backed it up with a string of 8.00's to prove it was no fluke. Dale's years of production racing had now paid off and he continued to test and race for Kosman Specialties throughout the 80's. He also began doing the drag testing for a few of the popular motorcycle magazines, (e.g. Cycle World).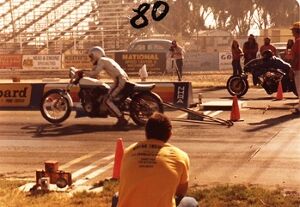 Dale won the Dragbike USA Funny Bike Class at his second race on Kosman's new turbo bike. Here he lays a massive holeshot on the competition in the final round for the win. Dale had two nick names by many fellow racers: Holeshot and Red light. Dale always said if you don't red light every once in a while, you're just not pushing the tree hard enough. Thus the name Holeshot Performance® was born.
---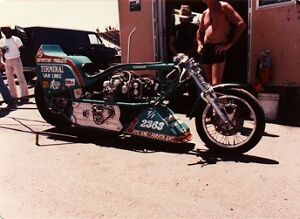 The Terminal Van Lines Top Fuel Kawasaki dominated the class in the early 80's. It was the first Top Fueler to run the cylinder head backwards force feeding the supercharger on nitromethane.
---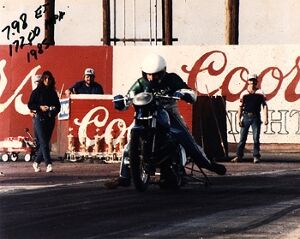 Dropping the hammer to a high 7 second pass at Fermosa Drag strip in Bakersfield, CA.
From 1982 through 1985 Dale's 1197cc turbo Kawasaki dominated the Funny Bike Class. It also held the A/Altered turbo record and ran as quick as 7.98 ET @ 172 mph. This was one of Dale's all time favorite bikes. It received the nick name of old blue.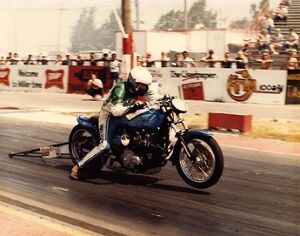 Old Blue took home another Funny Bike title in 1984 at this Dragbike USA event in Fremont CA. This bike really ran for having a relatively small motor. Dale's motor had 10.5:1 CR and saw boost levels of up to 30 lbs. This bike was foot shifted utilizing his first generation Electric Power Shifter.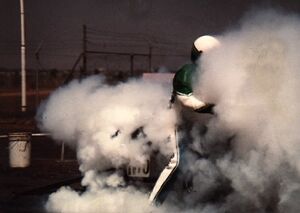 Okay, enough's enough. I think it 's warm now, Dale.
---
The quickest 750 Honda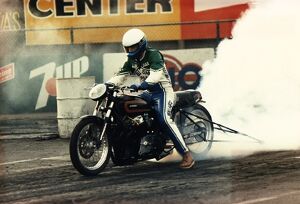 Dale's favorite Honda was his 1170 cc bored and stroked SOHC 750 named Blackie. This bike had 14.0:1 CR, aluminum I-beam connecting rods, polished and lightened crank, and a cylinder head with over 100 hours in it. In the early 80's, Blackie was one of the fastest normally aspirated Hondas of all time, setting the national record in the class at a 9.39 ET @ 142 mph. It may surprise you that that Dale ran these numbers with 29mm smooth bore Mikunis and manually powershifting the stock 5 speed trans.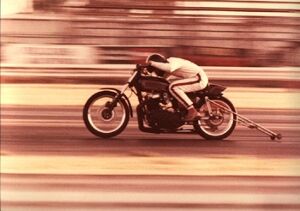 Dale getting under the paint and concentrating on his shift points, trying to squeak out a perfect pass.
---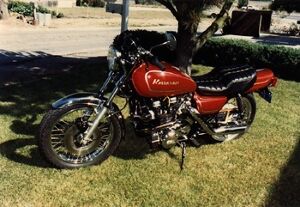 Dale's 1075cc Kawi turbo street bike ran 10.0's at over 150 mph in street trim. Boy was it a death trap when the motor tried to twist the chassis like pretzel under full power.
---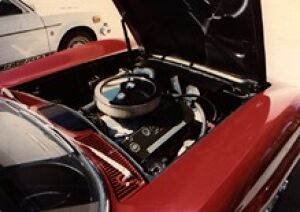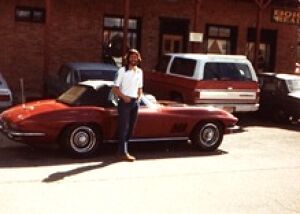 At age 24 Dale restored this '67 Corvette Roadster. He built the 450 hp 427 big block, the 411 ratio rear end and Muncie 4 speed trans. He built quite a few street cars, but this was his favorite, and of course is still kicking himself for not holding on to it.
---
Dale's KZ1400 Street Bike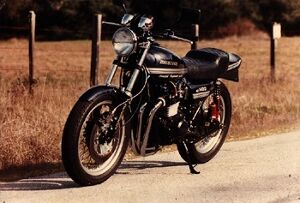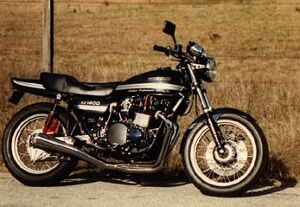 This was Dale's first real project bike that represented Holeshot Performance Products, which was featured in Hot Bike magazine in 1982. The motor combination was fairly mild mannered, but made tons of midrange torque for a great street ride. The engine was 1394cc's, 10.5:1 CR, with Dale's street porting, Yosh stage one cams and ran 33 Mikuni smoothbores. Dale also added a large Lockhart oil cooler for added engine cooling. He braced the frame in several areas and Kosman provided the chromoly braced swingarm, as well as the sun rims, ductile iron front brake rotor and Lockheed caliper. Dale ran Marzocchi piggyback rear shocks and re-valved the forks. He installed new springs and added a fork brace to minimize fork flex. It was a lot of fun to ride and the magazines gave it a great review.
---
Kosman's New Funny Bike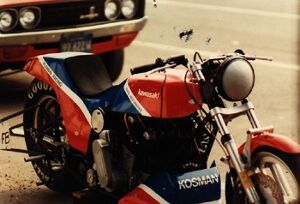 Specs: 1325cc, 10.0:1 CR, ported head, mega cycle cams, S&S carb and ARD magneto. It ran on race gas only.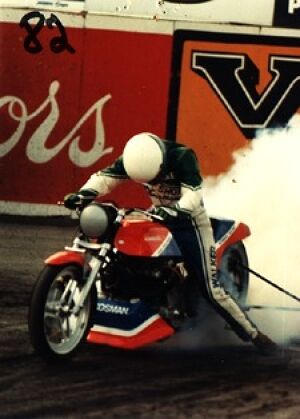 Dale rode Kosman's new Kawasaki turbo Funny Bike to 2 national event wins in '82 and '83. This was a really neat bike and the first we ran with a 3 speed, no kill trans. Dale foot shifted it to the 7.8-7.9 range.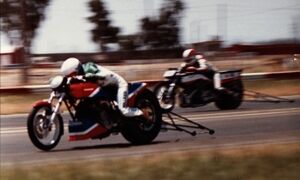 Dale match racing Nigel Patrick in 1982.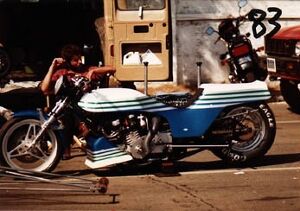 In '83 the Kosman bike was revamped, lengthening the chassis 2", as well as additional bracing and a new body and paint scheme.
---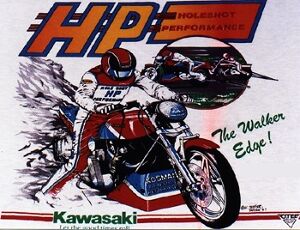 Holeshot Performance® T-shirt in the 80's.
Artwork by Kelly Telfer Design
---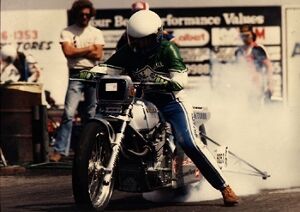 In 1982 dale won two national Funny Bike titles riding this Mr.Turbo/Vance & Hines sponsored Suzuki Funny Bike owned Rick Wright.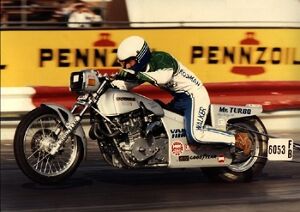 Dale on the gas at Orange County Raceway. Notice the rear tire distortion--that's why they call it a wrinkle wall.
---
8.04 @ 175 without Wheelie bars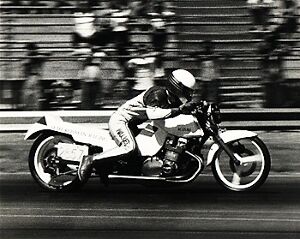 All those years of racing production bikes really paid off in 1986 when Dale ran an incredible 8.04 @ 175 mph on Kosman Specialties Pro/Street nitrous injected Suzuki. This was the first year of the no-wheelie bar outlaw class. Big GS and KZ motors were the choice of many racers. The class is getting popular again with the back east racers.
---
Dale Drives Kosman's Experimental Dragster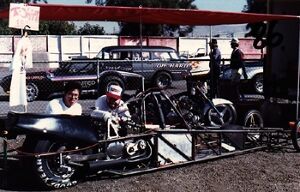 Peter and Dennis from Kosman Racing designed the car
In 1986 Kosman experimented with this 3 wheeled digger. Who drove it? Dale figured he'd driven a rear engine 8.90 sec comp car and a sand dragster--so it shouldn't be a problem. He went a 9.00 ET @ 155 mph with the Pro Street bike motor for the power plant. These cars were way to expensive and the class never caught on.
---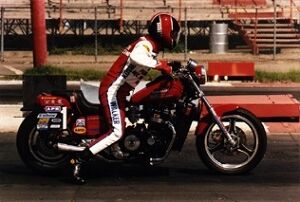 Dale opens his drag racing school in 1987. He Built 4 identical 900 Kawi Eliminators. They were bullet proof, running thousands of runs in the high ten second range.
More photo's to come...
---
First GSX-R Magazine Shootout Bike
Dale ran Kosman 's Street legal GSX-R 1255 in the mid 9's @ over 150 mph.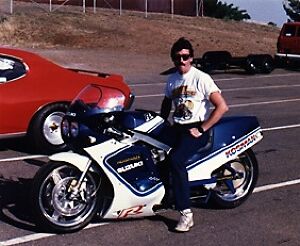 This bike was a trick piece and Dale got to dial it in at Sacramento Raceway.
In 1988 Dale helped Sandy Kosman prepare and tune his street legal GSX-R for the first Cycle World Magazine Shootout. The motor was 1255cc's with Corrillo rods. Highly ported cylinder head, big valves, whip ass cam shafts, 38mm flat slides and a Murray 1.75 primary header. Dale ran the best of 9.50 ET @ 150 mph with a Yokahama street tire at Sacramento Raceway in California.
The bike kicked butt on all comers during the Magazine Shootout Day. Dale did the tuning and Jay "Peewee" Gleason was the pilot for the Cycle World test, managing a 9.70 at the slick Carlsbad Raceway surface.
---
Getting back to his roots Dale rode Doug Myers Dublin Kawasaki ZX-10 to a new stock production record in 1988. Dale's new mark for the class was 10.53 ET @ 134 mph. Bone stock, well almost...he jetted the carbs, took a tooth off the counter shaft and lowered the front end in the stock triple clamps, (all of which was legal in the class).
---
Dale enjoys water skiing and barefooting to clear his head and stay in shape. His approach the sport takes the same dedication and concentration as riding his dragbikes, just pure adrenaline heart pumping fun.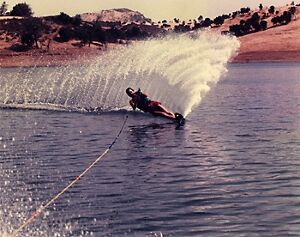 On the gas at Lake New Hogan in California.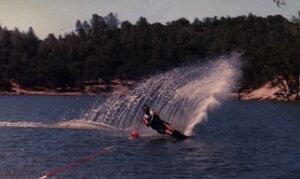 Runnin' the course at Lake Naciamento, California.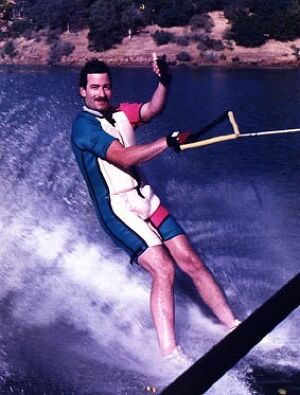 Bare footing at Lake Shasta.
This is the ultimate water skiing and house boating lake in California.
---