The 90's...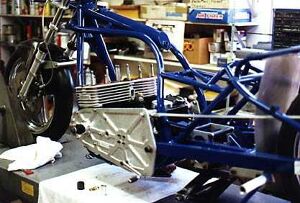 In 1990 Dale started building his own Kawasaki Pro-Street Bike.
---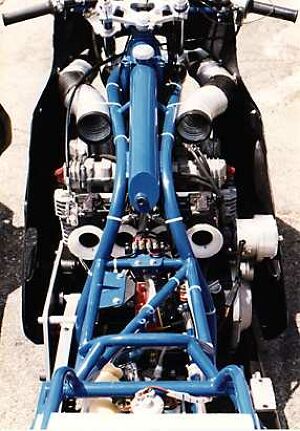 The Pro Streeter started out with carbs and nitrous oxide. The 1394cc Kawi ran mid 8's. Just when he was getting competitive the racing organization pulled the NOS out of the class, due to politics. At the time this made it very tough for the 2 valve motor to compete against the 4 valve GS based engines.
---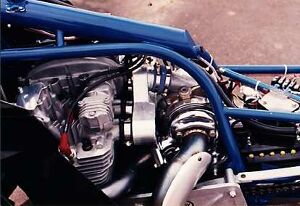 Dale and good friend Bob Wirth built this complete turbo system next. It turned out super sanitary.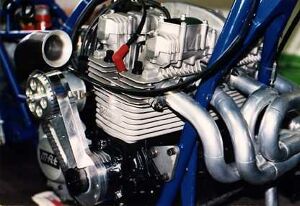 The large tube headers and intake manifold were both hand crafted in-house.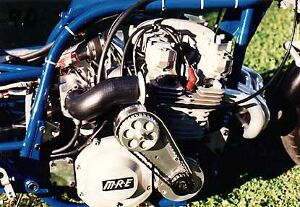 Dale ran the same 1394cc bore @ 10.25:1 cr with 28 lbs of boost. The J model cylinder head was lightly ported with big valves. Special turbo cams were ground by Megacycle to Dale's liking. He chose the Rajay turbo, Mallory magnito and a 1 7/8" S&S carb to round out the combination. Dale knew this was good for around 170 mph on gas only in the 1/4 if he could ride the thing.
---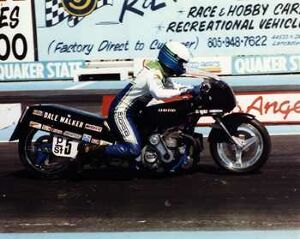 By the end of 1990 Dale's Turbo Kawasaki Pro-Streeter went the best of 8.18 ET @ 172 MPH. This was on race gas only.
---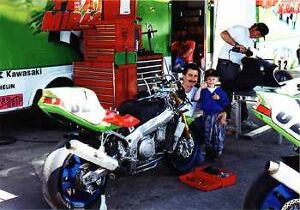 Dale and 4 year old son Keenan in Dale Quarterley's pit at Laguna Seca Raceway. Dale 1/4ley was the top privateer Superbike rider at the time. He ran the Holeshot Powershifter "2" on all his Superbikes.
---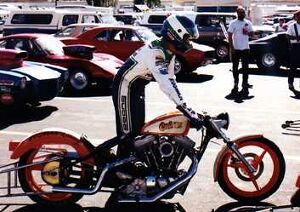 What's this, Dale on a Harley? You bet. Anything Kosman builds is super clean and usually runs well. Dale rode the 110" EVO Sportster to a 9.12 ET @ 144 mph. He foot shifted it with the Holeshot Powershifter "2".
---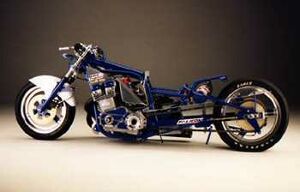 The turbo bike was too hard to ride consistent when poor track conditions arose. Dale decided it was time to build a 1497cc GS 4 valve normally asperated motor and spray it with nitrous. He fabricated new engine mounts and stuffed it in his Kosman Kawasaki 70" Pro Street chassis. (Shown here in the Cycle World photo studio.)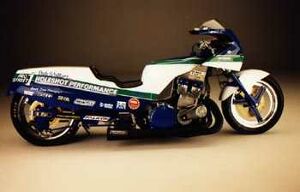 The finished product turned out beautiful and was a real pleasure to ride. The monster GS based engine made big linear power that put Dale in the winner's circle at most of the 1991 races. Dale ran 13.0:1cr, ported in house cylinder head, .430" IN & .390 EX Megacycle cams and 39mm Mikuni cone carbs. On the juice, this made an estimated 330 horsepower.
Dale won the Dragbike USA National Pro/Street Championship in 1991 with his 1497cc GS based Pro/Street Suzuki. This bike was featured in Cycle World magazine, in the October 1992 issue. Dale eventually ran an incredible 7.97 ET @ 179 mph, which today many are still trying to surpass.
---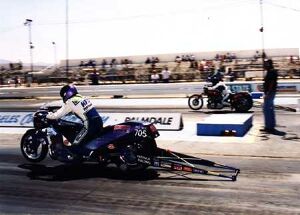 In 1995 Dale went racing again, running most of the NMRA West Coast races in the Pro-Mod 9" tire rule class. He ran the best of run of 7.50 ET @ 178 mph. Finishing in the top four riders. In 1996 he mostly concentrated on new product developement and raced only three national events winning one and made it to the semis in another. He's now sold this chassis.
---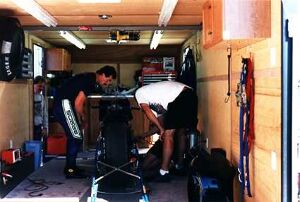 Thrashing between rounds.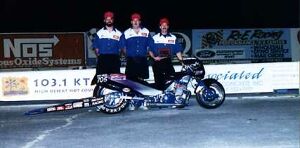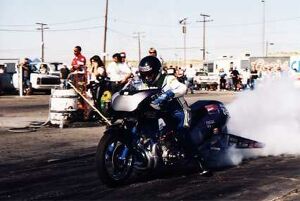 Getting the tire up to temp for the final round win.
---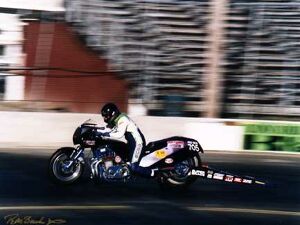 On the gas just clicking into 3rd, notice the tire growth.
---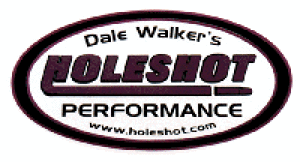 And now an update on my current race effort. We have a new a logo, (above), and a new bike.
---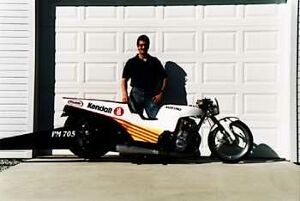 The following are photos of my new GS based Pro-Modified Suzuki that I'm finally ready to start testing. It is turning out pretty nice, and it had better be since I've been working on it for two years!
---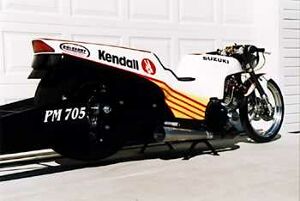 Bike Specifications:
Class - Pro-Modified carbs / gas / progressive nitrous oxide
Engine - Suzuki 4 valve GS based 1428cc
Compression - 13.2:1
Cam shafts - .430" in, .420 ex
Cylinder head - very, very large, complete new intake tracks, raised port floors and epoxy work
Crank shaft - Falicon Super Crank
Trans - FBG billet 5 -speed auto
Clutch - Billet basket straight cut gear, MRE lockup
Carbs - 44mm FBG Megatrons
Pipe - VHR Pro Stock Gold Label
Exhaust temp - Percy's High Performance digital exhaust temperature analyzers with full recall
Ignition - Dyna 4000 with 2 step and dual ignition retard
Nitrous - NOS System with Schnitz progressive control box
Shifter - Holeshot Preformance full electric Power Shifter 3 pushbutton unit, (no stinkin' air)
Chassis - Trac Dynamics T-4 Pro-Mod complete roller with 11" Goodyear
Engine oil - That's pretty obvious...Kendall, of course.
Fuel - Sunoco NOS Supreme 120 octane
Estimated horsepower - 350-400
ET potential - 7.20-6.90 ET @ 185-200 mph
---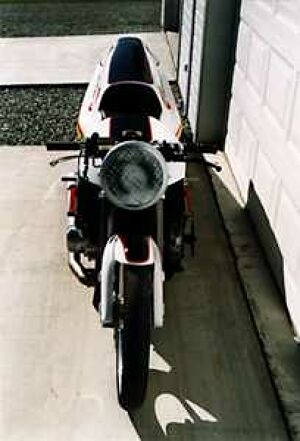 All the paint work was done by Irby Designs in Watsonville, CA. Danny Irby really did a great job matching the Kendall Funny Car's paint scheme.
He paints motorcycles full time.
He can be reached at (831) 761-1949.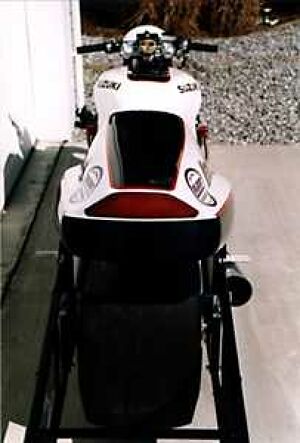 ---